You can add comments to an event in your Teamup calendar, on both the browser and in the mobile apps.
To do so, click on Options in the event editor, then choose Comments.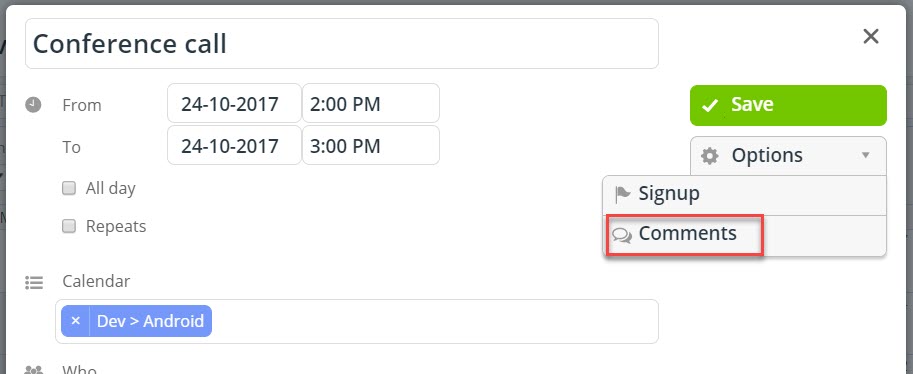 Enable comments and select who can add/view comments. The options are 'All users' and 'Users with modify permission.' If you choose 'All users,' then even users with read-only permission can leave a comment on the event. The 'All users' setting is helpful if you want to use event comments to gather feedback on an event from all event participants, but don't them to have modify permission for the event calendar.
You can use event comments in many ways, both personal and professional. Here are some ideas:
Use event comments to discuss an idea, projects, or event without having to go to a different platform or messaging service for the discussion. All the discussion history will remain with the event and can be easily reviewed in the calendar.
Use the event comments to plan and assign the various tasks involved in an event. For example, team members could use a comment to state what part of the project they'll be doing. Family members could use event comments to plan the food for a big gathering.
Use the event comments so that your team can easily collaborate on shared work. One team member can leave a comment letting the rest of the team know what she's done on a certain task; they can use event comments to "pass the task forward" when their part is done.'
Use the event comments to gather feedback in real-time for a workshop or conference sessions. Make it open for 'All users' and allow participants to open the calendar and leave their thoughts and suggestions as the event is in progress or as it closes. All the feedback stays with the event, in the calendar, so it's easy to find and use.
Learn more: