With a free Teamup Calendar, you can easily plan family reunions and summer holidays. Organize the schedule, share plans, and get everyone involved. Here's how.
Summertime is a long-anticipated season for many of us. We take breaks from our normal routines to enjoy time with our family and friends. These events can become a lot work, though, if you're the one in charge of planning. In this post, we'll look at how Teamup can make it easy to plan family reunions and more, so you can get back to relaxing.
Set Up the Calendar
Here's the scenario: Franco is in charge of planning this year's family reunion, which will take place over the first week of July. Some family members live nearby; others will be flying and driving from other areas. They'll be staying in different places, and Franco needs to coordinate the shared meals, planned events, and transportation.
Create sub-calendars for family and more
First, Franco sets up the calendar with all the sub-calendars he will need.
He starts by creating a sub-calendar for each family group or individual. Then he creates a set of sub-calendar for the different places involved: where people will be staying, and where they'll have events for the whole group.
Finally, he adds a sub-calendar for events and one for meals.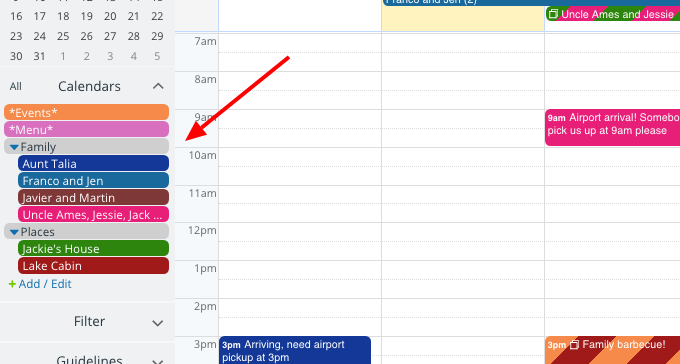 Organize the sub-calendars
By default, Teamup sorts calendars and folders alphabetically.
To keep the Events and Menu calendars at the top of his sub-calendar list, Franco marks them with an asterisk. He could also use numbering to list the sub-calendars in an order other than alphabetical.
Since he's put the sub-calendars for Family and Places into folders, he can collapse those folders when he doesn't to see the entire list.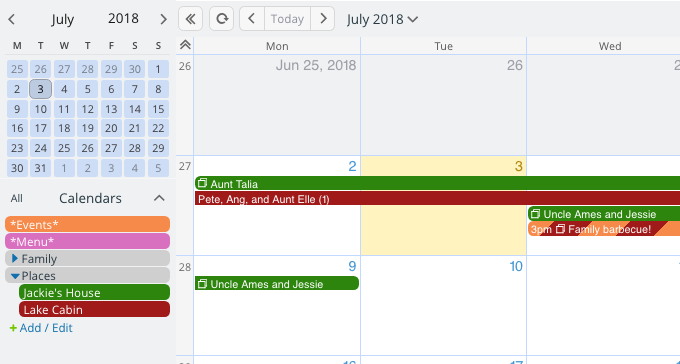 Let Family Add Their Details
Now that the calendar is set up, Franco needs to know when everyone will be arriving, and where they'll be staying.
In the past, the family's handled these plans with lots of email conversations and phone calls. It took up a lot of time to coordinate transportation from the airport.
This year, Franco has a better plan.
Create unique calendar links for everyone
He creates a unique calendar link for each family group or individual. That's no problem, since a free Teamup calendar allows an unlimited number of users. He sets the permissions so that each family member can read the other sub-calendars, but can only modify their own sub-calendar. He also makes it possible for them to modify the Place calendars, so they can add where they're staying to the calendar.
Franco shares the calendar links with his family. All they have to do is click on the link–or copy and paste it into their browser–and the calendar opens automatically. No one has to register or login.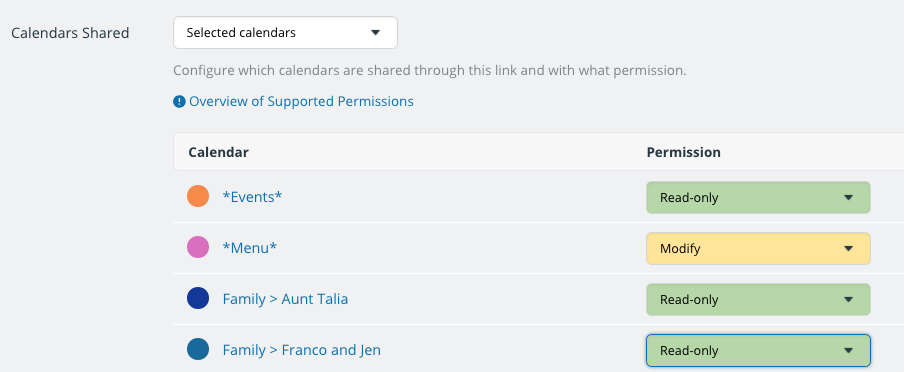 Work with permissions
And Franco can easily change the permissions on any calendar link, if needed. For example, when Ang and Uncle Ames offer to help with planning the meals, Franco changes their calendar links so they have permission to modify the Menu sub-calendar.
As family members start making plans, the calendar begins to fill up: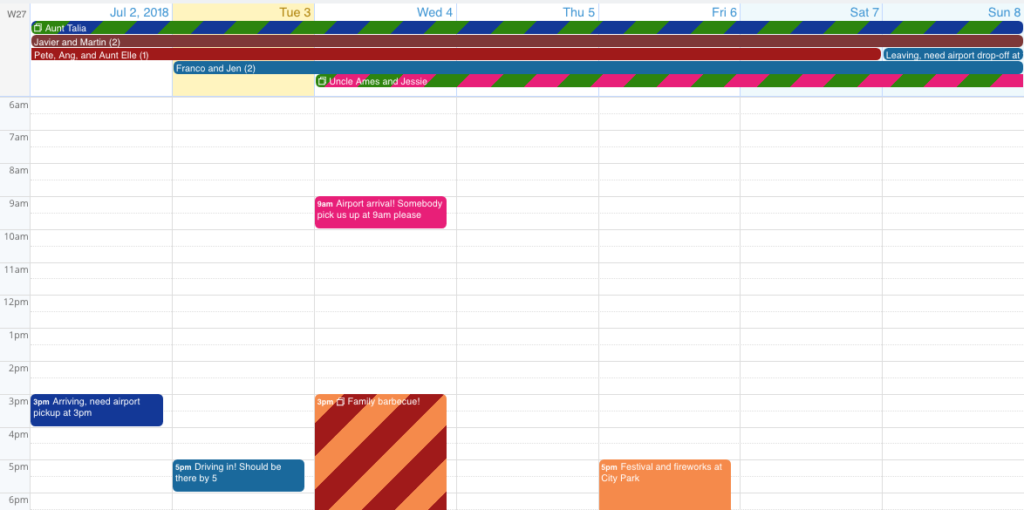 Put events on multiple calendars
When Franco views the calendar, he can see the details of when people are arriving and if they'll need a ride from the airport or if they'll be driving in.
He can also see how long they're staying, and where, which are the striped events.
For example, Aunt Talia is staying from July 2nd to July 8th, and she's staying at Jackie's house: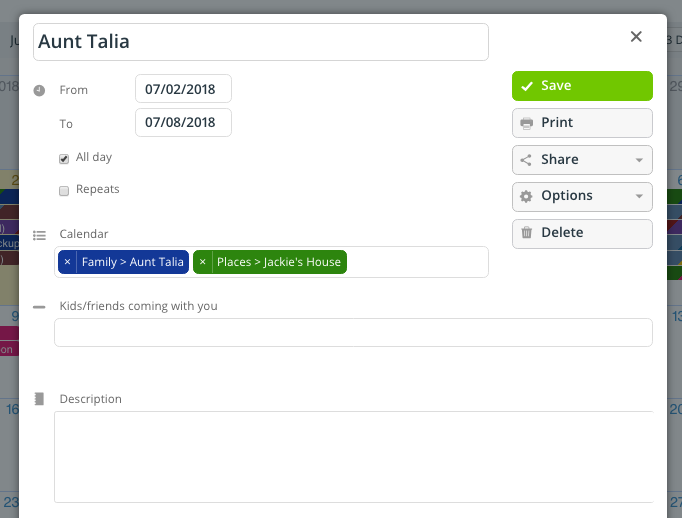 Use custom event fields
Franco added a custom event field to the calendar, too: "Kids/friends coming with you."
This way, he can get an accurate head-count which makes it easier to plan meals and events. He opted to have this field show in the calendar view, so he can see at-a-glance how many people are in each family group.
Coordinate Meals and Events
As Franco adds meals and events to the calendar, he can use Teamup's feature to make it easy for the whole family to stay coordinated.
Toggle sub-calendars on and off
In the view above, Franco has all the sub-calendars in the Places folder toggled off. All he had to do was click the Places folder. It's easy to toggle sub-calendars on and off, individually or by group.
Franco can also see only one sub-calendar, or group, by clicking the eye icon on the colored bar, which toggles off all sub-calendars except the group or calendar clicked.
Use event comments for discussion
As Franco plans the meals, he adds the details to each event description and then enables comments. He sets the comments so that all users can view them. This way, all family members–even those with read-only permission for the Event calendar–can join the discussion.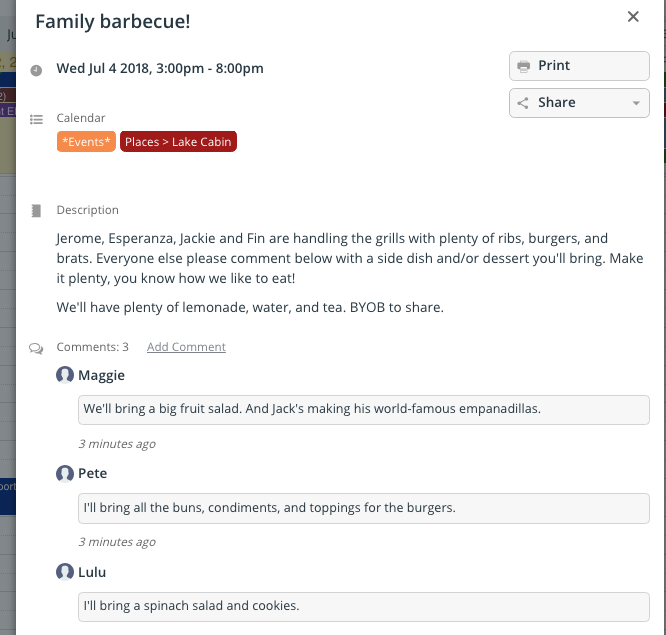 Share events as webpages
Family members can use their calendar links anytime to see what's on the calendar. But if Franco wants, he can also share planned events another way: via email, on social media, or as a webpage.
For the Friday night festival and fireworks event, he creates an event, includes a link to directions, and enable comments. Then he chooses to share as a page.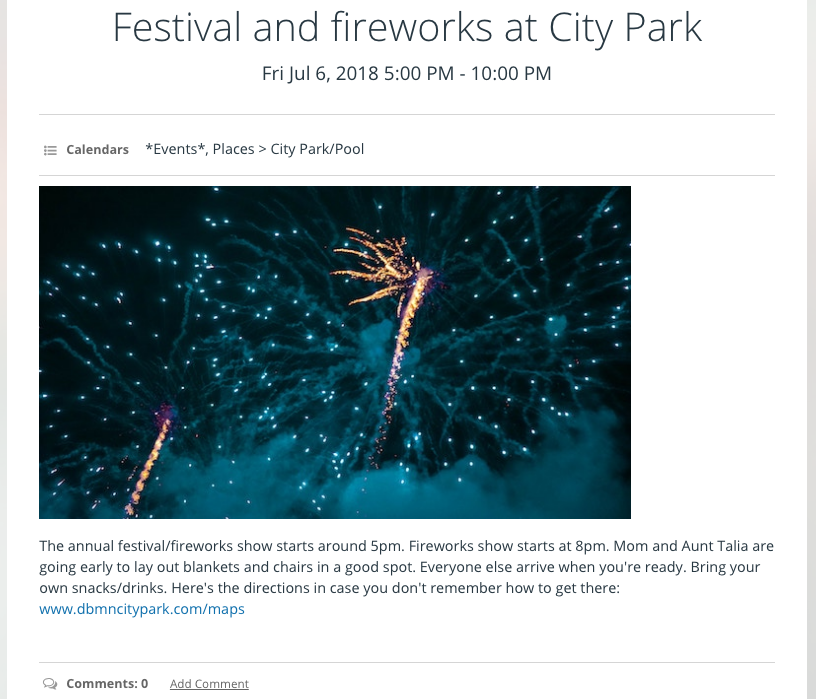 Now Franco can copy and paste the URL for the event page to the family's group chat, or to Facebook or in an email or text message. All the details are there.
Since event comments are enabled, family members can discuss the details on the event page, as well.
If someone needs to arrange a ride, for example, they can ask in the comments. Everyone in the family can see the discussion.
There are many other ways you can use a Teamup calendar to plan family reunions, events, holidays, travel, and more. What would work best for you? Try out a live demo calendar and see what Teamup can do for you.
---
Header photo by Michael Martinelli on Unsplash.