Set up maintenance and cleaning tasks, share contracts, show availability, and stay organized easily.
Property management covers a wide range of tasks, from cleaning and maintaining the property to overseeing repairs and booking guests.
The exact nature of property management differs, depending on the type of property. Short-term rentals, for example, require a quick rate of turnover that's not so important for long-term leased spaces. Residential and commercial properties differ, as well. All types of property management will include some, if not all, of these tasks:
Cleaning (between guests) of the property
Regular maintenance of the property (buildings, indoor and outdoor)
Yard work and yard maintenance
Communicating with guests/tenants
Managing the calendar/bookings
Manage housekeeping staff and other crew
Providing contracts and collecting payment
One key to efficient property management is to have some sort of organizational dashboard; this dashboard would, ideally, show you bookings and scheduled tasks, such as cleaning and maintenance, at the various spaces you manage.
"Excellent program! And perfect for our numerous lodges and their bookings." — Gregory, Mexico
It's also helpful to have a unified way to communicate with guests, with workers, and with property owners. While some booking services, such as AirBnB, provide built-in calendars and communication tools, these rarely provide all the flexibility needed to manage all the aspects of property management.
"I love the simplicity of your calendar application and am currently using the free version for tenants of an office building to book the joint conference room. Super impressed with your calendar and customer service." — Irene, USA
Teamup calendar can be a great tool for coordinating all the tasks and scheduling necessary for property management.
Create a Maintenance Calendar
You can use Teamup to schedule between-stay cleanings as well as seasonal maintenance tasks and even repairs. Then, by sharing a calendar link with your cleaning crew and maintenance providers, you can easily coordinate the schedule to make sure things happen when they need to.
One way to set up a maintenance calendar would be to create a sub-calendar for each property, or each separate space within the property. For example, if you manage a vacation rental with separate units, you'd create a sub-calendar for each unit.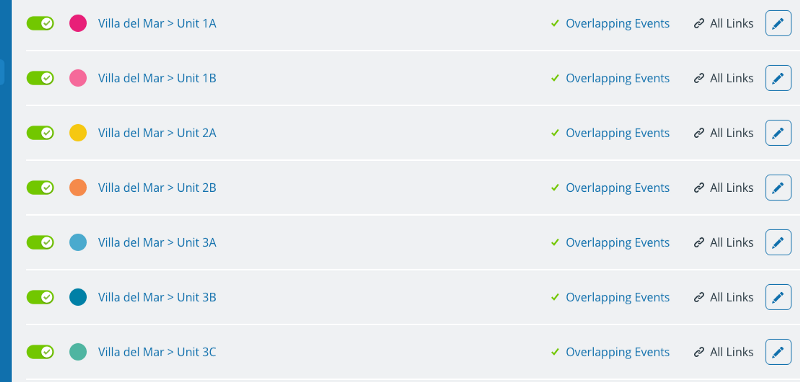 Then you can create a sub-calendar for all cleaning, maintenance, and repair tasks. Your calendar sidebar would look like this:
Add all booked stays to each unit's sub-calendar; then, in between guests, you can schedule cleaning and maintenance. When there is a longer break between guests, you can schedule bigger maintenance tasks or repair work.
You would put these events on both the maintenance sub-calendar and the sub-calendar for the unit; that way anyone can see — whether checking availability for a unit, or checking the cleaning schedule — when a unit is undergoing maintenance.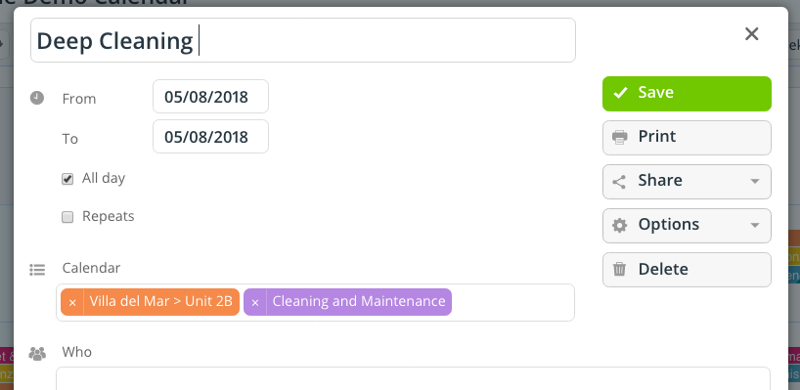 Could you benefit from an easy system for all the tasks of property management? Try out one of our live demo calendars to see how Teamup could work for you.
---