A Teamup Calendar can be set up to organize many things all in one place.  While it is not specifically designed to be a task management tool, it does facilitate marking tasks and events as complete. This could be useful for tracking team projects, monitoring to-do lists or keeping a simple diary.
Calendar Setup
We recommend setting up your calendar as follows :
– Create a sub calendar that holds current tasks
– Create a sub calendar with a different colour for completed tasks
– Once a task is complete, move it from the 'Current Tasks' sub calendar to the 'Completed Tasks' sub calendar.
Move Events from One Sub-calendar to Another
Option 1: You can move the event between sub calendars by opening the event in the event editor and changing the calendar selection from the dropdown list of calendars: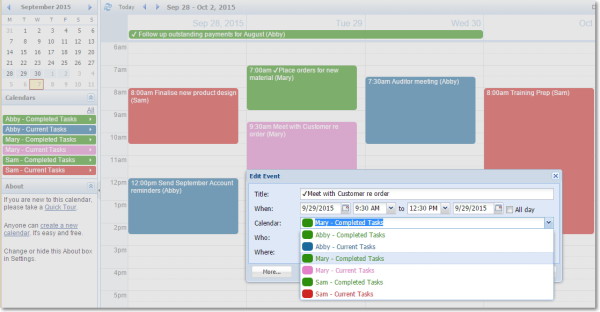 Option 2: In the Scheduler View the sub calendar is automatically updated if you drag the completed task to the completed tasks column:



You can enable the Scheduler View in Settings > Calendar Views.
Add Symbols
A nice touch is to add a tick symbol (via the ascii code) to the title of the event. This can be done by pressing alt and the numbers 251 using the numeric keypad on the right side of the keyboard while still pressing the Alt key, then release the Alt key. Now a √ is inserted in the title of the event:



Alternatively, add some emoji icons to the About box of your calendar on the left panel, so you can easily copy and paste them into your event editor whenever needed.
Visual Overview
Should you set up your sub calendars to be in distinctly different colours, then at a mere glance you will be able to see which events are current and which tasks are complete. You could even add further sub calendars for more detailed progress monitoring. eg 'Tasks on hold' or 'Tasks awaiting approval'
TIP: You can easily show and hide the various sub calendars to de-clutter your view. For example, if you'd like to see the completed tasks only, click on the arrow next to that sub calendar name.