Since 1995, Sign Language Solutions has been providing quality interpreting services to the Twin Tiers area (a region including multiple counties around the New York-Pennsylvania border in the U.S.). They coordinate with many subcontractors to make professional and specialized sign language interpretation available for their clients. To manage a team of subcontractors, they need a tool that helps them schedule jobs and ensure that each person has the needed information for each assignment.
The need: accessible information, automatic updates
Interpreters often do quite a bit of prep work for each assignment. For example, if an interpreter is accompanying a client to a medical appointment, they might go over relevant medical terminology. If an interpreter is assisting at a live event, they'll review the program schedule and any speeches so they are able to interpret accurately and quickly.
A big challenge when working with subcontractors is making sure they have all the information needed for the job, and that they're always working with the latest updates. Often, a staff member has to individually update each subcontractor when information changes about an assignment. That's time-consuming and tedious.
The solution: details and documents in context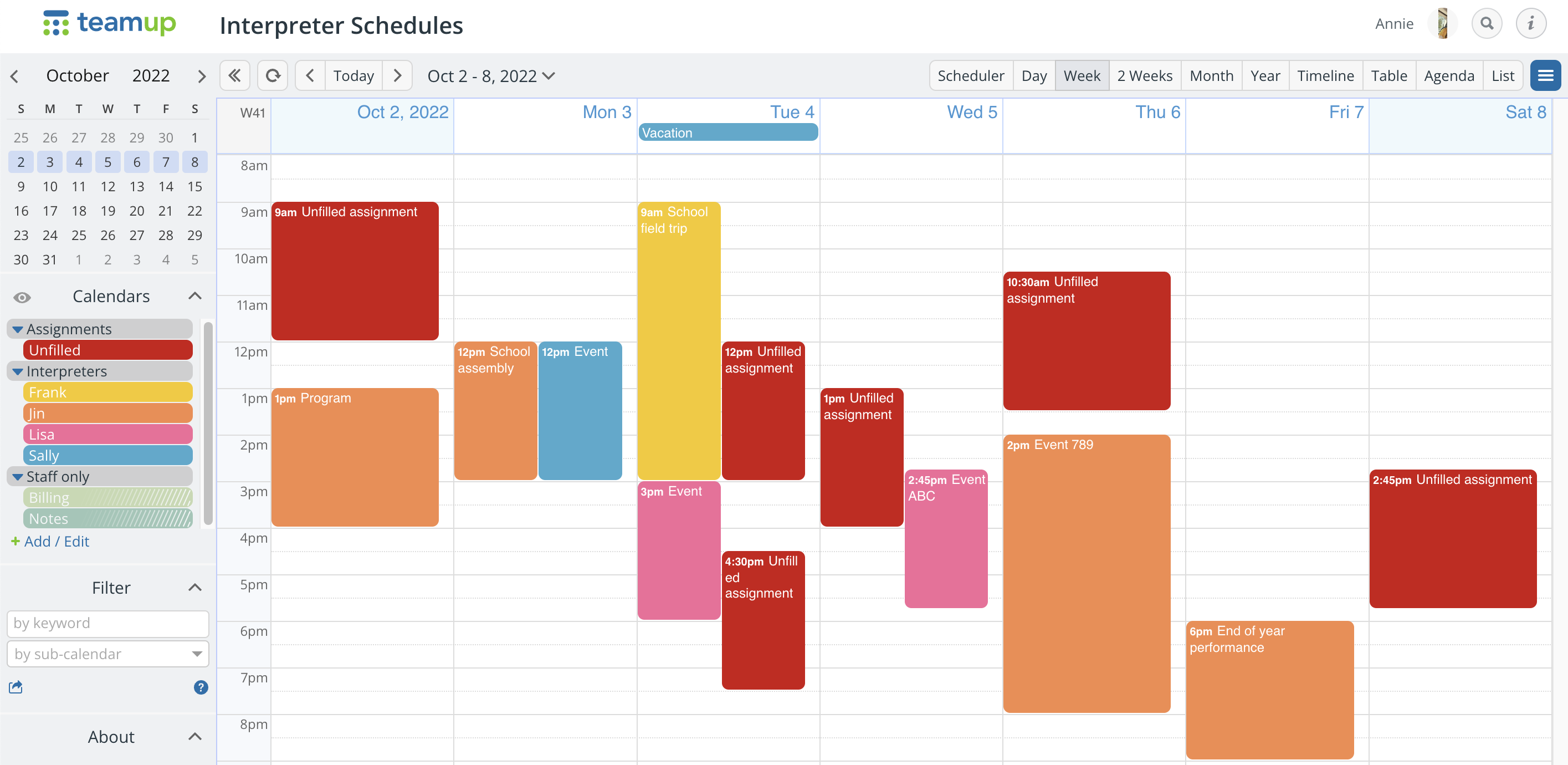 With Teamup in place, the SLS staff can easily share assignment details and documents with subcontractors:
The location is automatically mapped in the Where field.
For virtual assignments, a Zoom link is included.
The description and details are in the event description.
Prep documents are uploaded in the attachments field.
Subcontractors don't have to chase down a Google doc or search through email to find the relevant file. Staff members don't have to spend their time answering questions. It's all there, attached to the assignment.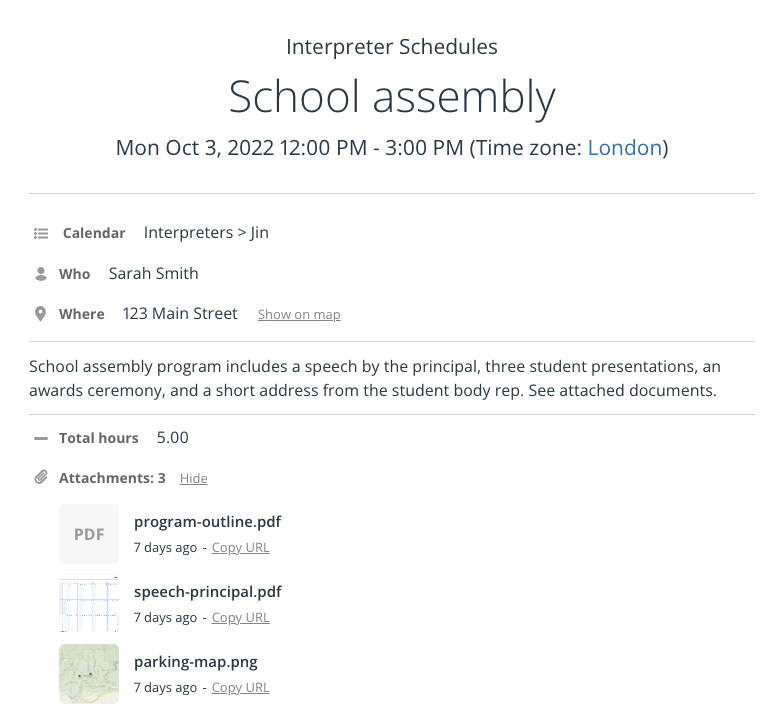 If there is a change, it's easy for the SLS staff to update the assignment. For example, if a program changes, they can delete the old program document and upload the new one. The subcontractor will automatically see the newest version of any assignment whether they're viewing the calendar on a computer or using Teamup's mobile app.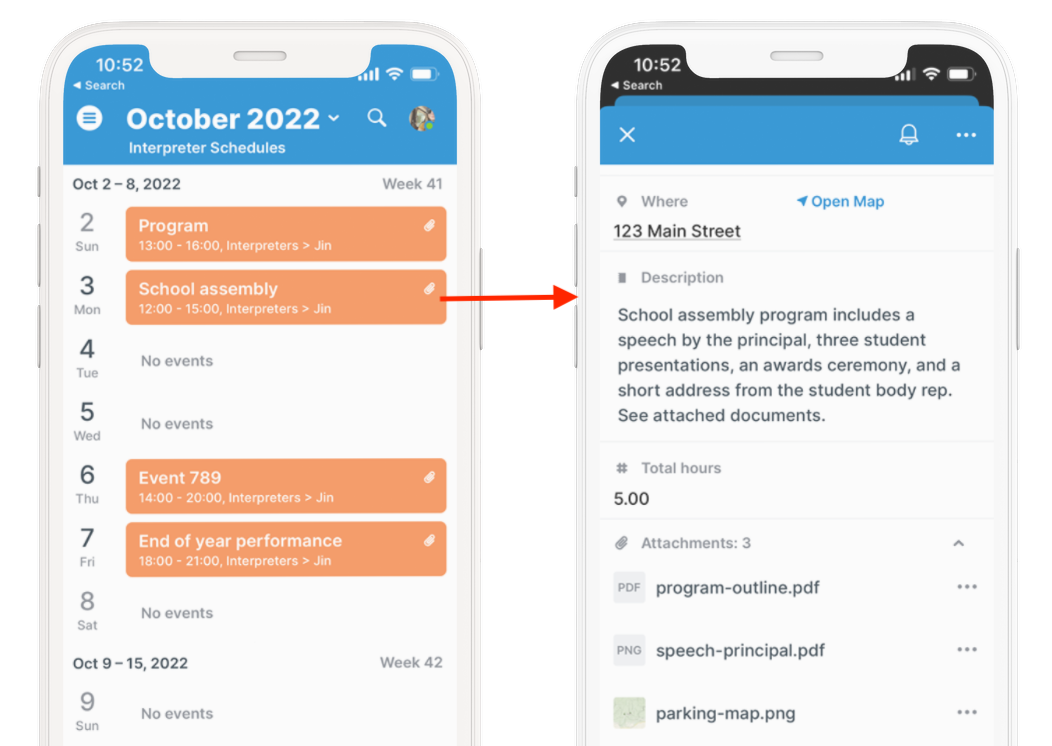 The results: organized, empowered efficiency
All the information in one place empowers sub-contractors to be prepared for assignments and staff to focus on other priorities. Everyone sees the latest version of assignment details: no more errors due to out-dated information, and no information bottleneck. Everyone can work more efficiently and focus on doing their jobs well.
What makes it work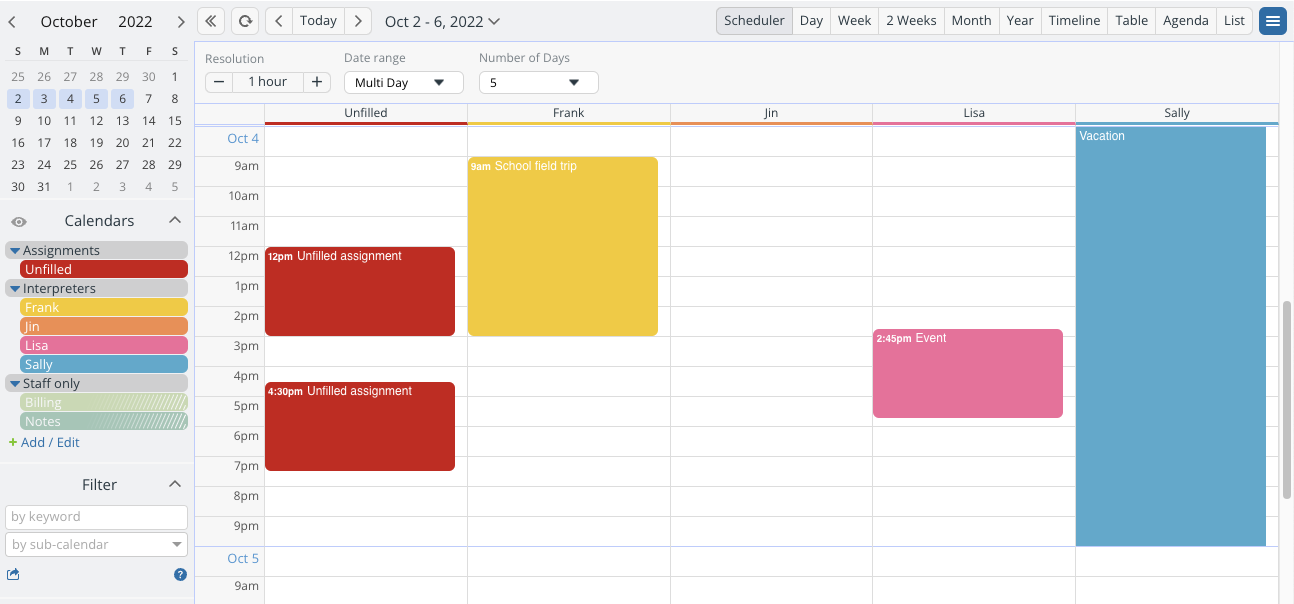 Visible interpreter availability for scheduling: Unique calendar views like Scheduler (above) are helpful for seeing which interpreters have availability for unfilled assignments.
Plenty of room for all event details: Staff members can enter the details of open assignments, including date, time, location, assignment type, specialization, and any other relevant info. There's plenty of room with built-in event fields and custom fields, which can be rearranged as needed.
A streamlined workflow for assigning jobs: Staff add new assignments to a calendar that all subcontractors can view; once accepted, the job is moved from the "Unfilled" calendar to the assigned interpreter's calendar.
Easy access to files and documents: It's easy to attach relevant documents, such as medical terminology or event programs, to each assignment so interpreters can be well-prepared.
Automatic updates for everyone: When there's a change or an updated document, the staff can quickly update the assignment. Interpreters will automatically see the latest version of the event, and can even enable notifications for changes made to any of their assigned events.
When information is available and updates are automatic, it's a lot easier to manage a team of subcontractors. See how Teamup could work for you with a live demo calendar.
Thanks to Alissa and the SLS team for sharing your story!
Header photo by Thiago Barletta on Unsplash