Managing a production schedule is a complicated! You need to organize and track multiple factors for each project. You're often overseeing different teams, such as drivers and skilled workers with different certifications. Since there are dependencies in production lines, one phase must be completed before the next can begin. A delay on one part of the production line can affect the whole timeline. Production managers need to keep a close eye on the schedule and make quick adjustments so the jobs can be completed by deadline.
Paper-based systems are error prone. Spreadsheets get complicated and aren't easy to adjust. Teamup is an efficient alternative for production schedules. Let's use the example of a small factory and take a look.
The phases of production scheduling
Production scheduling typically moves through these main phases:
Planning
Routing
Scheduling
Dispatching
Execution
If you're running a smaller operation, you might combine some of these phases. Or, if you're running a larger production line, you might sub-divide the phases. No matter what size your production line, here's the goal: to ensure that each order can flow from beginning to end with minimal disruptions. Keeping track of everything in one system is important. Otherwise, bad things happen, like double-booked workers, misallocated materials, and conflicts with equipment use.
A Teamup calendar for production line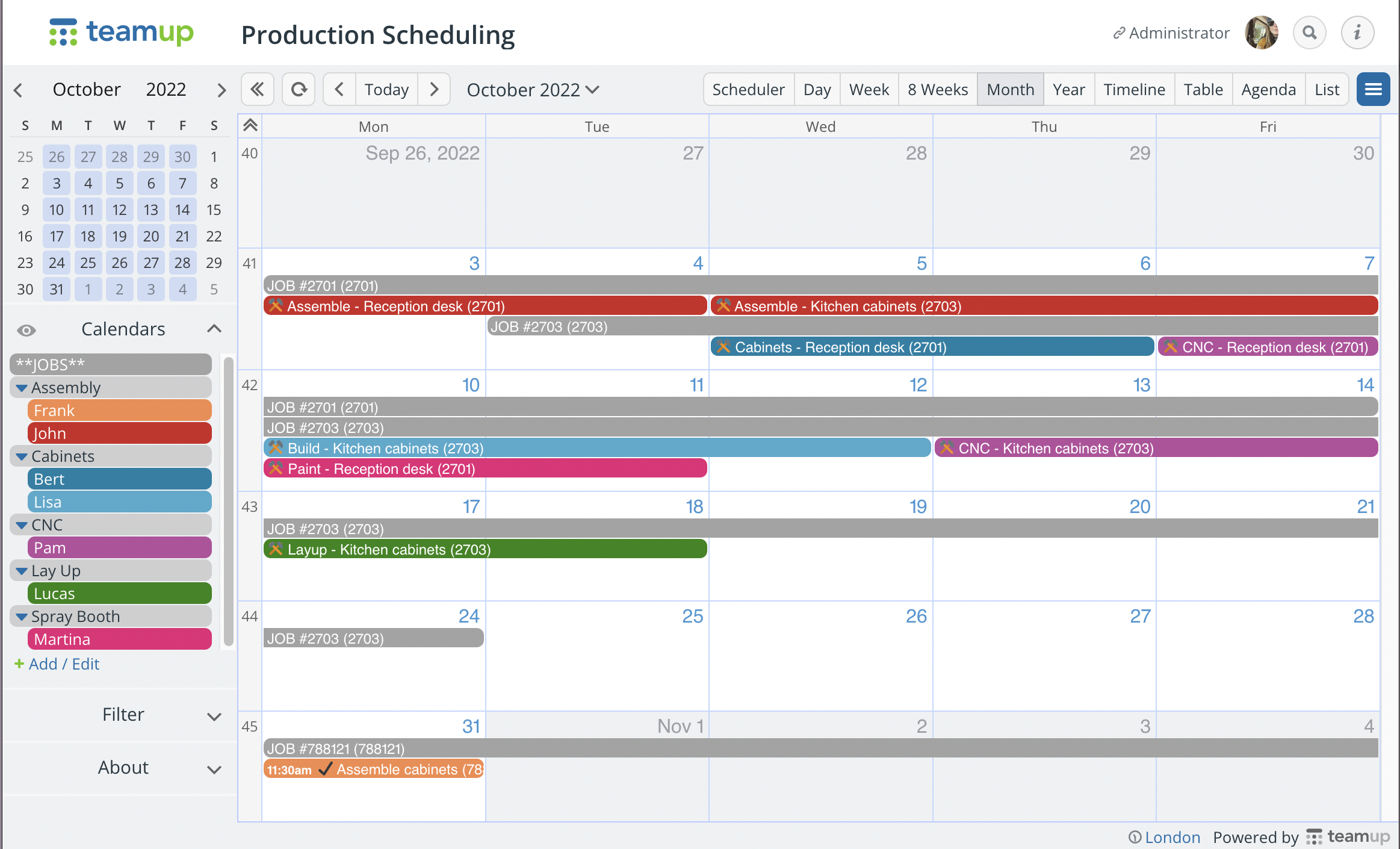 Planning the job
When a new customer order comes in, the office staff add it to the production calendar. When they add it, they'll assign a job number and upload the work order. This is key to efficient production lines: keeping all the information in one place. No more paper copies of key documents. Instead, upload everything to the production calendar: work order, reference images, a materials list, specifications, etc. All the information is right where you need it, accessible by office staff, managers, and anyone who needs it.
Now it's time for the production manager to plan the job. Since all new and current jobs are on the calendar, the manager can see which resources are in use and when they'll be available. Having that information makes it easier to reduce downtime.
Routing and scheduling the job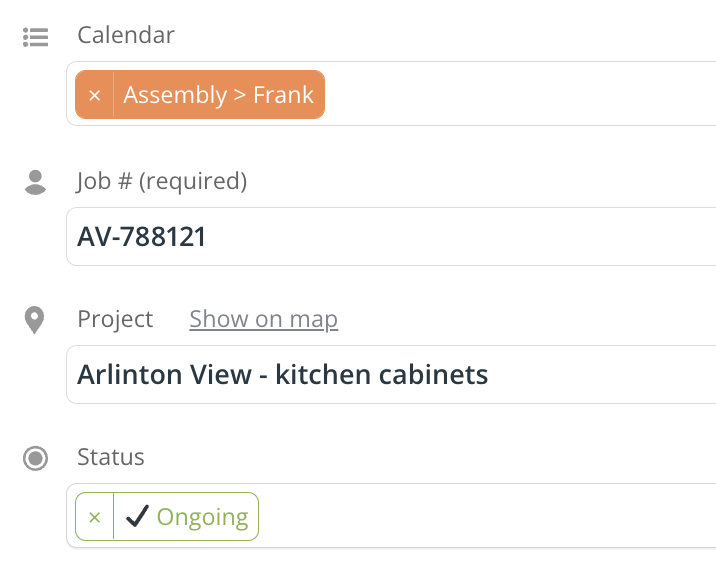 If needed, you can issue a bill of materials for the job and plan all the sub-processes. As the timeline for each component is set, the scheduling for next steps in the production line can be added. Even if some of the components are sent to sub-contractors, those tasks and timelines can be added to the main productions schedule, too. This means that all aspects of the job are in one place. No need to tab between email, paper work orders, and messages from office staff or floor managers.
Dispatching on the line
You'll need to make decisions each day about the order of tasks to work efficiently. Whether you're at the desk or on the floor, you can pull up the production calendar to see what makes the most sense. Teamup's mobile apps are easy to use and stay synced automatically. If a material delivery is delayed or a machine goes down, you can quickly pull up the calendar, filter for jobs that are impacted, and make adjustments. For workers, set up a large screen display of the production calendar for easy visibility.
Executing the job
Good execution of any job means everyone knows what they're supposed to do. They know when it needs to happen. And they have the needed resources to do the work.

Keeping a production schedule in Teamup makes it possible. Workers can check the calendar to see their assigned tasks for each day and update task status as they go, or managers can check on completed tasks and keep the status updated. Once all production tasks are complete, you can update status ("Ready for delivery") so office staff can complete billing and assign the delivery job to the driver's calendar.
Try out a live demo calendar to see how Teamup can work for you, or create your own calendar today.