This is a translated version of this article written by Country-Reiten.de, originally published in German.
During this time of the Corona virus, visits to the barn must be carefully organized. It's a challenge to manage riding stables. The stable schedule must ensure that the applicable rules of distance and hygiene are observed. A shared calendar can help to avoid scheduling chaos. It can also be used in more "normal" times: for example, to plan the occupancy of stalls or use of the arena.
As a stable owner, you are often an appointment juggler in these times. You have to be sure all regulations are implemented and adhered to. Larger stables with many visitors and scheduling needs may quickly reach the limits of what is feasible.
Can a shared calendar be a helpful solution to deal with the challenging situation? We have tested it. Here is what we found.
Confusing variety of calendars
If you look for calendars on the Internet and in the app stores, you will be almost overwhelmed by the offers. That's why you should first define for yourself what such a calendar has to do.
(Teamup's note: see our article on choosing calendar software for helpful tips.)
For us, it was important that the calendar meet these standards:
can be used via app on iOS and Android devices
can be accessed via the web browser
everyone can enter appointments and see if there is an overlap
subsequent editing of appointments must be possible.
In terms of data protection, we thought it was good to be able to use a calendar even without a user account, e.g. only via a web link. In addition, it was important for us to be able to create several calendars, e.g. to be able to "book" different areas like hall, square, or round pen separately.
If all this can be realized for free, even better. We tried out some calendars and finally chose Teamup. With a Teamup calendar, all our standards are met to safely manage riding stable visits.
Calendar installation and operation
To work with Teamup as a calendar administrator, a person must only create a calendar. After that, one can create, manage, and delete calendars via the website. All other users of the calendar can either download the app for iOS or Android, or use the calendar via the browser of a computer or mobile device.
(Teamup's note: a free Teamup user account enables more features: event reminders, a synced calendar dashboard.)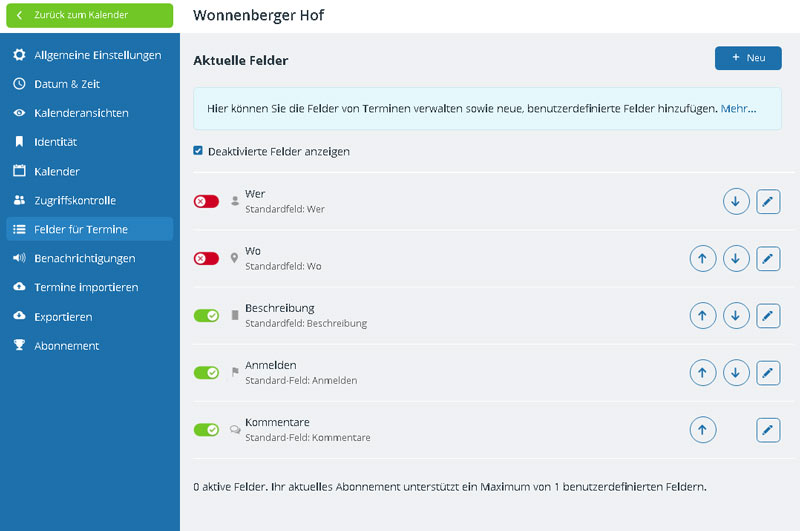 As admin you can create sub-calendars, define event fields that are included on each calendar entry, and much more.
An important area is the administration of calendar access rights. A calendar admin manages the users who are allowed to access the calendar. This is very easy to do with Teamup. You can define for each user which access rights are valid and create an individual shareable calendar link. The users can access the calendar with their individual links and add calendar events as needed. Thanks to the customized shareable links, calendar users are not required to have a user account to access the calendar.
(Teamup's note: you can grant calendar access to account-based users or via customized shareable links.)
It is helpful to create a test user, so that the admin can see how the system works for the users.
This is not only helpful during setup but also if there are questions from users of the calendar, which can be traced more easily this way.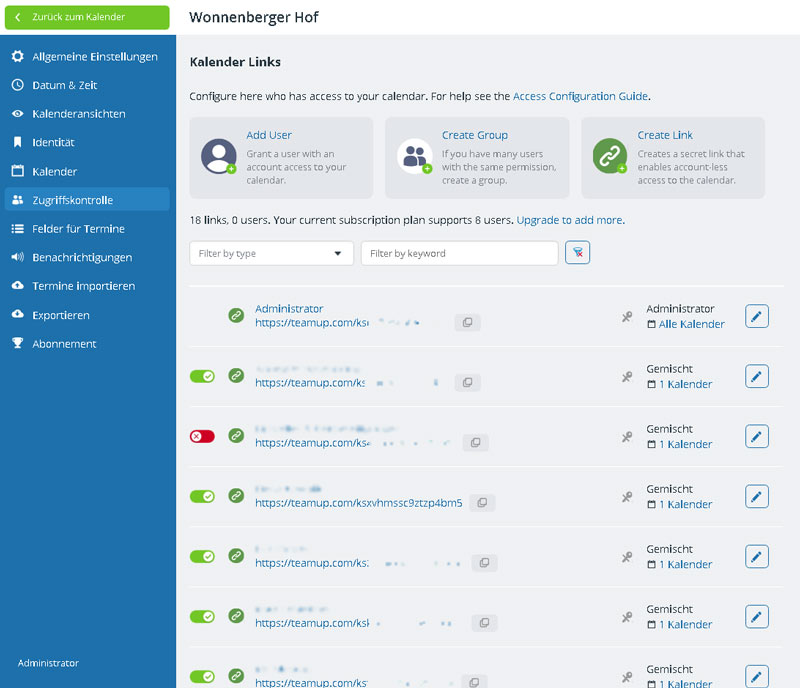 As soon as the technical side is set up, all users who are to work with the calendar should be sent information on how to use the calendar.
Apart from the technical things (how the calendar works, where to download the apps, and how to create and edit appointments), it is important to point out the rules of the farm. For example: no more than two people are allowed on the farm at the same time, the time limits per visitor, or whatever else applies on the farm.
We have, for example, asked the horse owners and their riding clients to indicate the individual's name and the desired use in the event title when they enter a date (e.g. Christine – riding ground).
All those who want to ride out are to enter two events: one for cleaning and grooming before the ride, and one for unsaddling after the ride. During the time an individual rides out, there is free capacity at the farm. This allows us to work with only one calendar, which makes it easier to keep track.
A calendar to manage riding stables
The good thing about Teamup is that you can really adapt it to your needs very easily. Thus, with one or more individual calendars, you can also manage allocations for riding arenas, halls, stalls, equipment, and more at the stable.
The setup is almost self-explanatory or, with the help of the test user, can be understood quickly by a bit of trial and error.
The users for our calendar have easily understood the operation of the calendar and are able to work smoothly with it. The big advantage compared to scheduling appointments with WhatsApp and other messenger services is that you can always keep an eye on future appointments (e.g. hoof groomer comes in two weeks). Overlaps of appointments become immediately visible and the calendar can be set to prevent them from being allowed in the first place.
All this not only makes it easier to keep track, but also relieves the stable operator, who no longer has to approve every appointment request. With a shared calendar, all users are not flooded with countless messages which ultimately only state who is coming to the stable and when. Instead, each person can view the calendar as needed for the most updated schedule.
Teamup, even in the free version, is a wonderfully simple yet powerful solution that is perfect for stables.
---
Many thanks to Markus Erdmann with Country Reiten for sharing your experience with us!