Event reminders are notifications sent by email to remind you of an upcoming event. Event reminders are available only to users logged in with a Teamup user account.
You can create event reminders for single events, or for a sub-calendar. You can now add event reminders on the Teamup mobile apps for Android and iOS.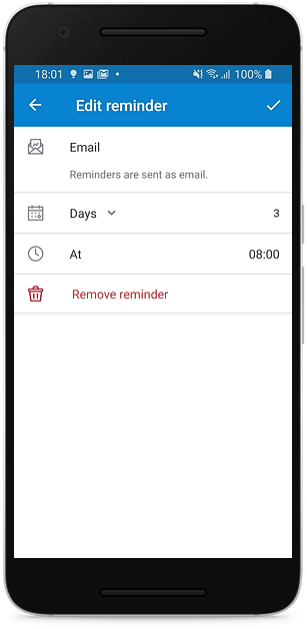 Here's how:
Open or create an event.
Tap the Bell icon in the top bar.
If you have already set up event reminders for a previously created event, they will appear here.
Tap the green + button to add a new event reminder.
Set the options for the event reminder.
Tap the checkmark in the top bar to save the event reminder.
To remove an event reminder on the Teamup mobile app:
Open the event.
Tap the Bell icon in the top bar.
From the list of event reminders, tap the one you wish to remove.
Tap the red Remove reminder text.