Teamup offers a unique calendar view that makes it easy to look back over the year that's passed and planned for the months ahead. The Yearly View is all about long-term thinking and planning. And while we all have to pay attention to our tasks and schedules on a day-to-day basis, the key to a successful day starts with a bigger picture. When we take time to notice and prioritize what matters most to us, we make better decisions. Then the quality of every day and moment improves.
Here are some ways you can make use of Teamup's unique Year View to review and appreciate the past year, and to prioritize and plan for the year ahead. It's your life; why not make the most of it?
---
Table of Contents
---
How to use the Year view
There are several ways you can use Teamup's Yearly view. If you already have a Teamup calendar, simply use the view switcher in the top right to select Year view. Adjust the dates as needed to see the past or upcoming months. If you don't yet have a Teamup calendar, you can create one for free here.
You can also use one of our live calendars, or use a blank calendar template. The blank calendar templates can be printed for use, or you can download a PDF or screenshot to your tablet for digital use. We have a special holiday collection of printable calendar templates available here.
A personal annual review
A weekly or monthly review can help you notice what's working and what's not in your daily life. Then you can adjust and improve. Regular, thoughtful review helps you to notice and eliminate distractions and non-priorities, which otherwise sneak in unnoticed and take your precious time.
An annual review is big-picture version of a weekly or monthly review. Look beyond how things are going on a daily or weekly basis; note your long-term growth rather than immediate movement. By reviewing the scope of an entire year, you get that 5,000-foot view that helps you make better long-term decisions. It's also a good way to notice and proactively work on the bigger patterns that affect your life, productivity, and goals.
🔗 Get more ideas for using a printable calendar template. 
Organizational annual planning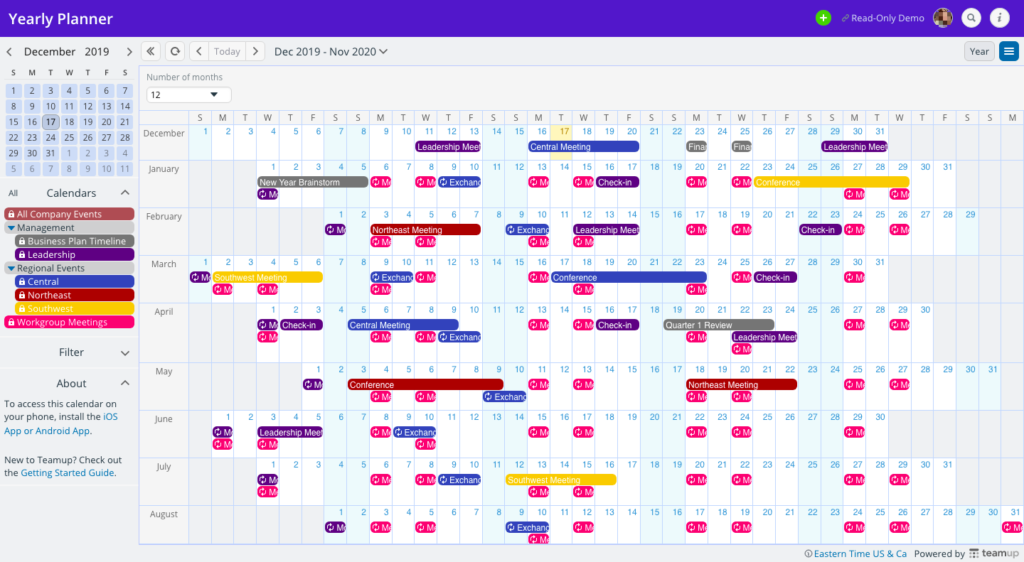 Every organization needs a high-level view to keep growing sustainably and functioning well. Planning ahead helps organizational leadership think about the priorities, rather than responding only to urgencies. By making key decisions at the beginning of the year, you're able to communicate, delegate, and focus on what matters most for your organization.
Financial planning is just one area that benefits from yearly proactive planning. Organizations can also do annual planning for marketing, operations, projects, sales goals, personnel hires or changes, training, operational focus, and more. Yes, a plan will need to adjust and meet reality. But starting with a clear plan makes every decision easier, and enables your team members to work at their best.
🔗 See a live Yearly Planner demo calendar. 
Family memory saving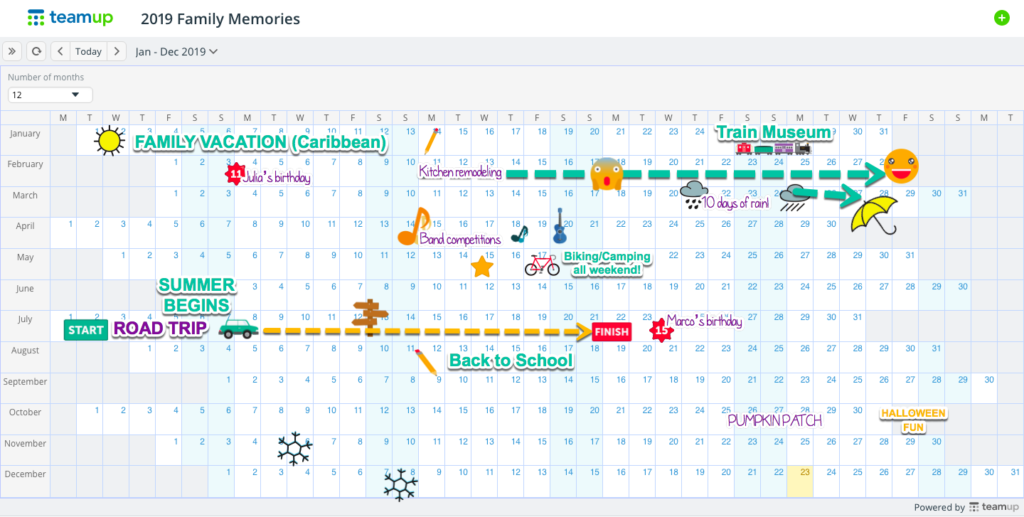 On a more personal note, you can use Teamup's Year view as an easy and fun way to collect and save memories with your family. It's a great holiday tradition to start! We've made a 2019 Family Memories blank calendar template: click here to open it.
Gather everyone with food and drinks for a relaxed time of storytelling and memory saving. Print a blank Yearly calendar template for a paper version, then laminate or frame it with a collection of photos from the past year. Or use a digital download of the Year view and add notes and more with your iPad or tablet and stylus. You could designate one person as the official "Scribe" or pass around the calendar so everyone can add their own touch.
🔗 Get the Year blank calendar template here for printing or digital memory saving.