Goodbye, 2019: thank you for all the challenges, the memories, the adventures, the daily moments of beauty, the lessons, and the inspiration. We are thankful for the year gone by and all it has given us. Now as we enjoy holiday celebrations with family and friends, we look forward with joy and anticipation to what's ahead.
Happy holidays and happy new year from all of us at Teamup!
---
Table of Contents
Product updates
On the blog
---
Today button to move or copy events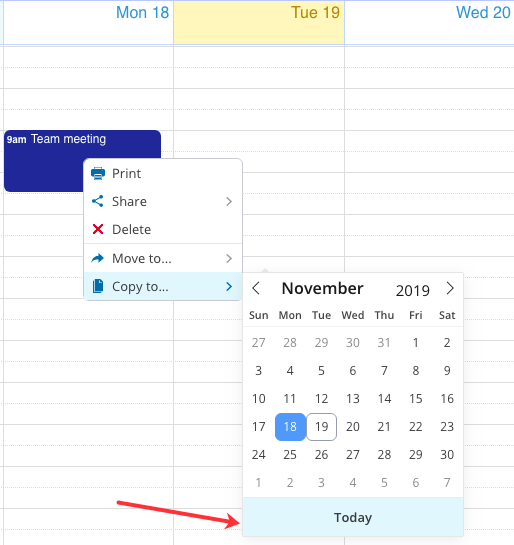 On the web browser, you can right-click any event to open the context menu. From there, choose the Move to or Copy to option. The new Today button appears at the bottom of the pop-up calendar. To move or copy the event to the current day, you can simply click the Today button.
🔗 More details: Copy or Move an Event to Current Day
---
"Great Software. It has changed the way we do business!"
---
Duplicate option for events
Here's another helpful new option in the context menu (available in the browser when you right-click on any event). The new Duplicate option allows you to quickly copy an event, but with the option to change any of the event details first. Click the Duplicate option, the event will open and you can change things as needed: location, calendar, description, etc. This feature allows you to duplicate an event from a read-only calendar to one of your own sub-calendars.
🔗 More details: New: Duplicate Option for Creating Events
---
"I have utilized Teamup for the last 5 plus years with amazing success. And have referred many of my colleagues/friends."
---
New and improved billing system
Our new billing system, which supports monthly billing and automatic renewal, is now rolled out to almost all Teamup calendars. We've taken our time over the last several months to release the new billing system in phases. We've been very pleased with the response.
Here's what the new billing system looks like: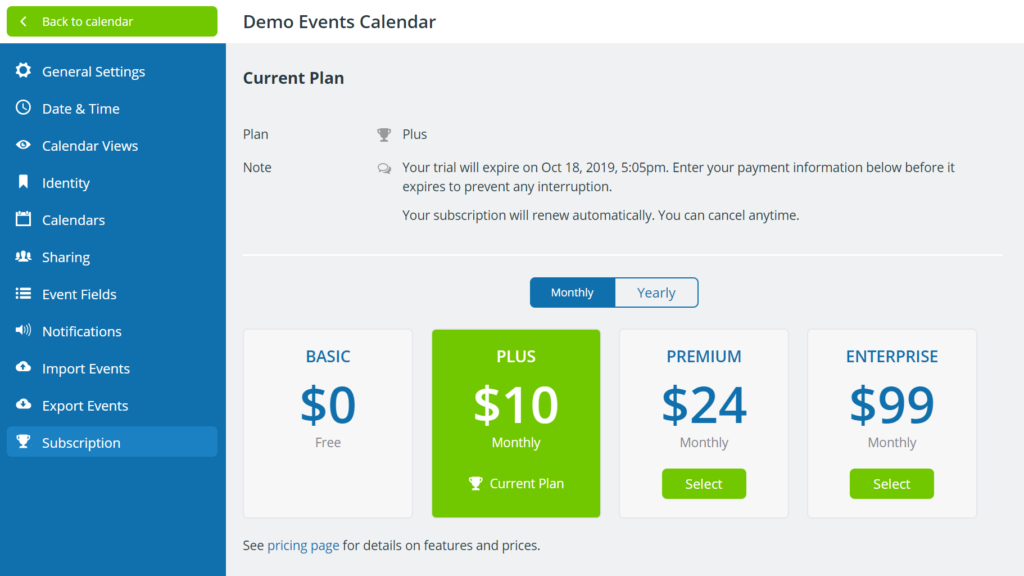 The new billing system shows our four subscription levels with monthly or yearly billing. Any subscription will renew automatically, whether monthly or yearly. You can, of course, downgrade, upgrade, or cancel anytime.
More details: Upgrade and Downgrade Subscription Plan in the New Billing System
---
"First of all, we LOVE your product! We're a small family-owned business, and it meets our needs perfectly! Thank you very much for developing the calendar."
---
Using printable calendar templates
We can all use a little help getting more organized.
The holiday season, when so many wonderful activities coincide with the end of one year and beginning of a new one, is a beautiful time to pause, reflect, and focus on what matters to you.
While we're (obviously) big fans of technology, we also appreciate the simple impact of paper and pen. Sometimes computer and apps, phones and software bring more distraction than help. A printable calendar template can help you focus on what you want to plan, set priorities, and work in a calm way as you anticipate the new year.
🔗 More: Using Printable Calendar Templates for a More Organized You
---
"I've been using Team Up for my staff for about a year and a half now and absolutely love it, as does my staff."
---
Better yearly planning with Year view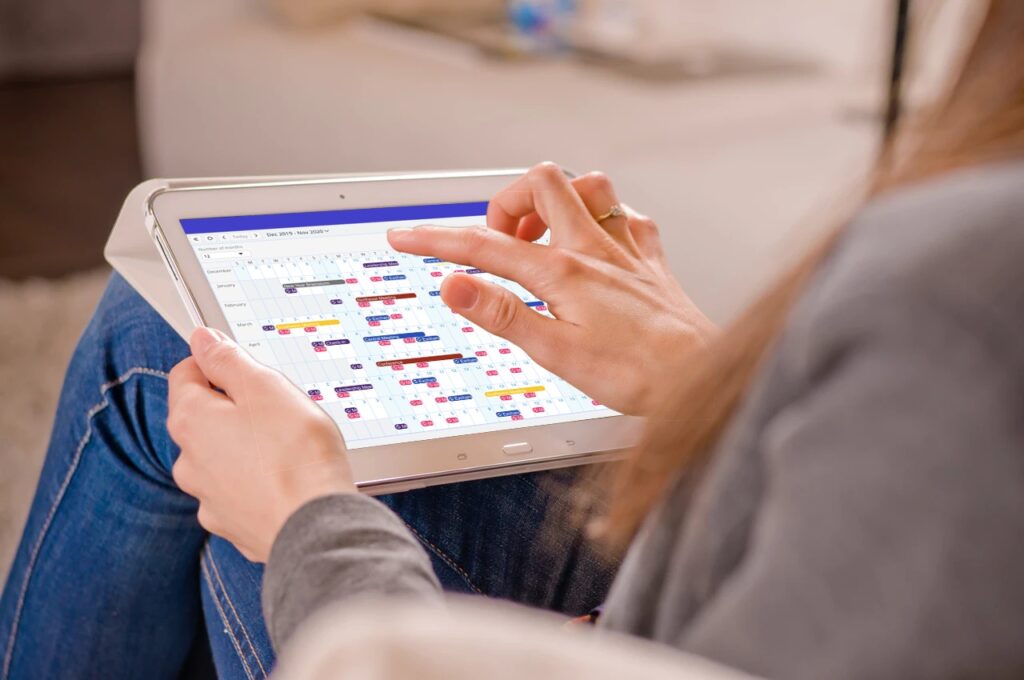 Teamup offers a unique calendar view that makes it easy to look back over the year that's passed and planned for the months ahead. The Yearly View is all about long-term thinking and planning.
We've gathered some ideas and tips for making use of Teamup's unique Year View to review and appreciate the past year, and to prioritize and plan for the year ahead. It's your life; why not make the most of it?
🔗 More: Use Teamup Year View for Better Annual Reviews and Planning 
---
"We have been using your App for almost two years and I must say that it is a great App, exactly what we needed, so, thank you very much for creating it!"
---
Free printable calendar templates
To help you get organized with printable calendar templates, we put together a special collection. You can browse all of them here. Choose the ones you like and print, or save as a PDF to use on your laptop or tablet. Of course, you can also create your own customized calendar templates. You'll find instructions and tips along with our blank calendar templates.
🔗 More details: Holiday Elf Brings Power Tips and Blank Printable Calendars
---
New to Teamup? Start here.
Make the most of Teamup, right away, with our docs and guides.Jump in with the Quick Start, learn more from the Getting Started Guide for All Users, or check out the Calendar Admin Getting Start Guide and our FAQ.You can search our Knowledge Base to find information on specific topics. Check out Quick Tips on our blog for quick ideas and information.
Looking for inspiration? Try our Wall of Love or User Stories. Do you have your own story or tip to share? We'd love to hear it!  Share your story here.
We're on Instagram, too! Follow us for helpful tips and inspiration.
If you can't find the information you need, let us know. We're here to help you find the best solution for your needs.