By choosing and integrating the best tools for their service, Tulsa Cycling Events provides thousands of area cyclists with the event information they need.
About Tulsa Cycling
Tulsa Cycling Events provides an important service to the vibrant cycling community in the Midwest. There are many cycling events in the area, making it difficult at times to find all the events dispersed through the region. To that end, Tulsa Cycling Events created a calendar that allows visitors to search for events within a 6-hour drive of Tulsa.
Their spreadsheet calendar shows all events, both tentative and confirmed. Their Teamup calendar shows all confirmed events. Both calendars are available on Tulsa Cycling Event's Facebook page, along with a regularly updated map. Often times there are several important updates to multiple events, and rather than having to post those updates to dozens of groups, users can just follow the Facebook page. Some weeks there are upwards of 50 calendar updates! This calendar is only for events, not weekly club rides. There are casual events (events hosted by local clubs, race teams, or shops), but they are typically one-time (or annual) events.
Tony Diaz shared with us how Tulsa Cycling Events' incorporates a Teamup Calendar to provide as much helpful information as possible to area cyclists, in the most easily accessible ways.
The challenge
Our challenge is organizing and listing thousands of cycling events within a 320-mile radius of Tulsa.
Our previous solutions include Google Sheets and Google Maps; they worked well, but weren't quite enough. Now we use them alongside our Teamup Calendar for a complete solution.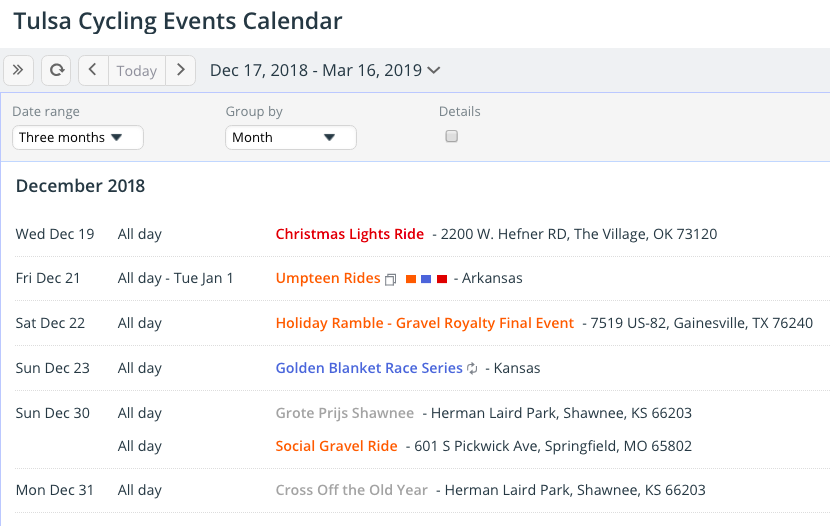 The solution
Teamup has made it far easier to present a calendar-based display of confirmed events.
We list events based on type (road, gravel, mountain, cyclocross, etc.). This categorization allows our users to filter the hundreds of riding events for the ones they're most interested in. Our spreadsheet in Google Sheets has both tentative and confirmed events, but the Teamup calendar is only used to list confirmed events. Our Teamup Calendar serves as a de-facto cycling event calendar for the region.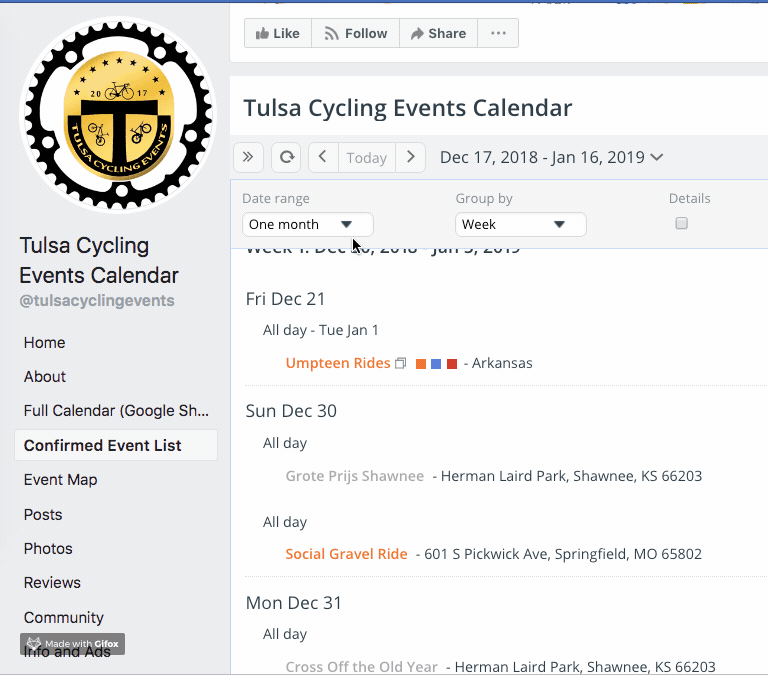 Rather than depending solely on a spreadsheet display—which is tough to navigate, especially with this many events—our Teamup Calendar allows us to present a calendar-based format of confirmed events.
The success factors
Tony and the team at Tulsa Cycling have identified and integrated the best tools for their needs into an efficient system for managing information and sharing scheduled events. With this customized combination, they can present a vast amount of information in a way that makes it easy for people to find what they're looking for.
Here are a few Teamup integrations and features that many users find helpful:
Get notifications in Slack: You can set up calendar notifications for a Slack private channel or group channel from any Teamup Calendar. Your team can stay updated on calendar changes without having to leave their Slack discussion.
Upload files from Dropbox and more: It's easy to upload files, documents, or images to a Teamup Calendar event from Dropbox, Google Drive, OneDrive, and more.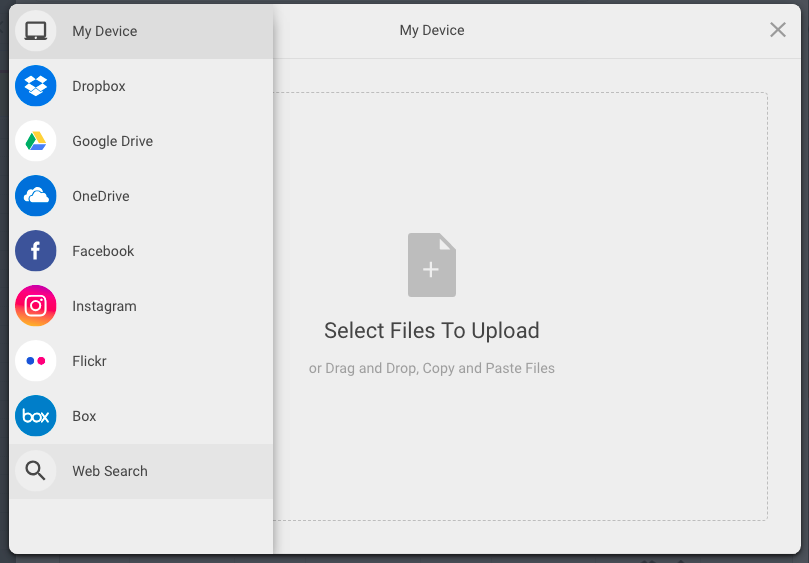 ---
Many thanks to Tony Diaz for sharing this story with us.