The STEM Scholars program puts on many events, social or academic, to help enrich students' college experience. These students use Teamup to help communicate the event opportunities.
About The Ohio State University STEM Exploration & Engagement Scholars
The mission of the STEM Exploration and Engagement Scholars Program is to provide new college students with opportunities to increase their engagement within The Ohio State University and their STEM major and interests. Entering college, STEM majors especially may find it initially difficult to manage their academic workloads while getting involved and utilizing campus resources. The STEM Scholars program seeks to aid these students and provide avenues for academic and professional development.
The Challenge
For their first year in STEM Scholars, students must complete 7 STEM-related events, 1 diversity-related event, and a long-term event. The program itself puts on many events, social or academic, to help enrich students' college experience. Since the cohort contains students across over 25 majors, ranging from Actuarial Science to Mechanical Engineering to Business, we had to find several events that would span many fields. To compile relevant events for the cohort, we had to find a calendar that could accommodate having several events categorized and easily readable. Additionally, these events needed to be easy to compile to an email digest sent out weekly.
The Solution
To help communicate these event opportunities to students, several calendar options were evaluated and Teamup was found to be the best for the task at hand.
Teamup visually was the best option for having several sub-calendars within a single calendar. Adding or editing events, moving them to different calendars, or making them repeat biweekly was simple as well. Sharing the calendar with our leadership council was painless; many people could edit the calendar seamlessly and simultaneously.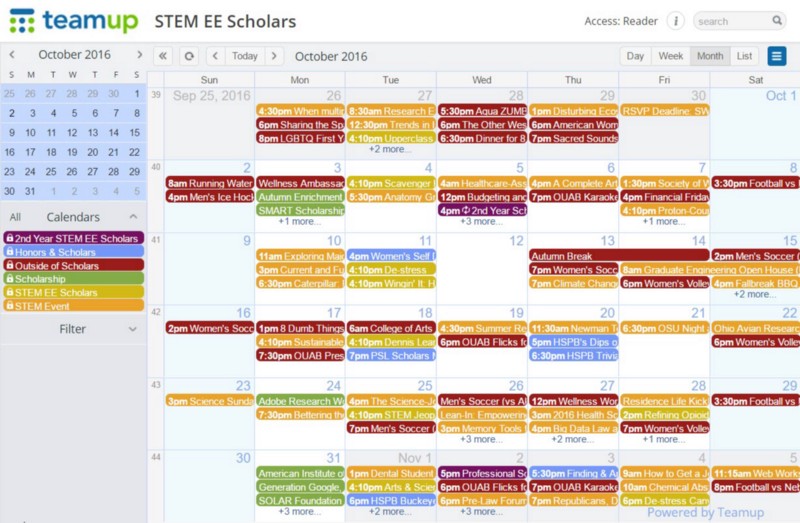 We also realized that our weekly digest could be generated using Teamup's API. With some JavaScript, HTML, and CSS, we wrote a generator to create our weekly digest by pulling events from our calendar. That program is open-sourced on GitHub. The Teamup API allowed for easy organization of 15+ weekly events in the email digest. With this generator, we saved about 2–3 hours a week from making the email manually.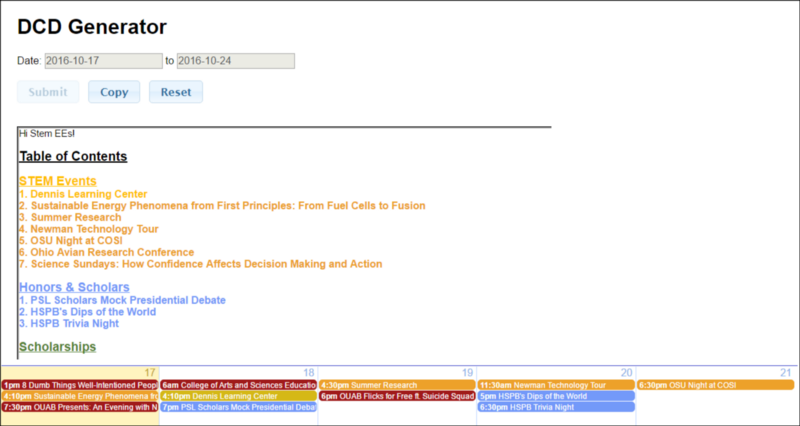 The Benefits
Multiple subcalendars with great color-coding and readability, even when there's 6+ events a day
Extensive API which helps develop applications like an email generator
Ease of administration with an admin link (Free version) or password protection (Pro version)
Easy to share to guests since the calendar doesn't require people to make accounts