Most companies are organized in teams or departments that focus on specific areas of work, such as engineering, production, sales and finance. In small businesses, it is also common that some people wear multiple hats and work in more than one department. A company calendar structured according to the operation helps keep a clear overview of who is doing what or simply the availability of resources.
If you would like to create a company calendar where all employees can update their vacation plans and be scheduled for jobs, while everyone may or may not view the calendars of others, you've come to the right place: Teamup allows you to set up such a company calendar easily.  The case below demonstrates how to set up the calendars and create access links for each employee and for managers to keep informed of what's up for a whole department.
Case background:
The company has 25 employees.  They are split within 2 departments:
Department 1: 16 employees
Department 2: 14 employees
There are 5 employees working in both departments.
(If you do not have employees working in multiple departments, the solution is even simpler.)
The need as described by the manager who is looking for a solution:
"I would like to have the possibility to have 3 different type of views for the people in different roles in my company:
One view with ALL 25 individual calendars for the company owner and other key personnel.
One view for the manager of Department 1 which regroups 16 individual calendars; one view for the manager of Department 2 which regroups 14 individual calendars
One view for each individual employee so that people can look at their calendar only and update if needed."
The solution with Teamup Calendar:
Step 1:
Add calendars for each employee.  Use 3 folders to group them: one for those only working in Dept 1, one for those in Dept 2, and one for those working in both departments (leave this folder out if you do not have people working in multiple departments).
Step 2:
Besides the calendar administrator link that is shared with the Creator of the calendar, the administrator may create additional calendar links and assign them custom access permissions at any time: Each department link allows the user to view or modify respective staff's calendars.  And the administrator also creates one link for each employee to view or modify their own calendar only or additionally to view only but not modify any the calendars of others.  See more about permissions and how to share.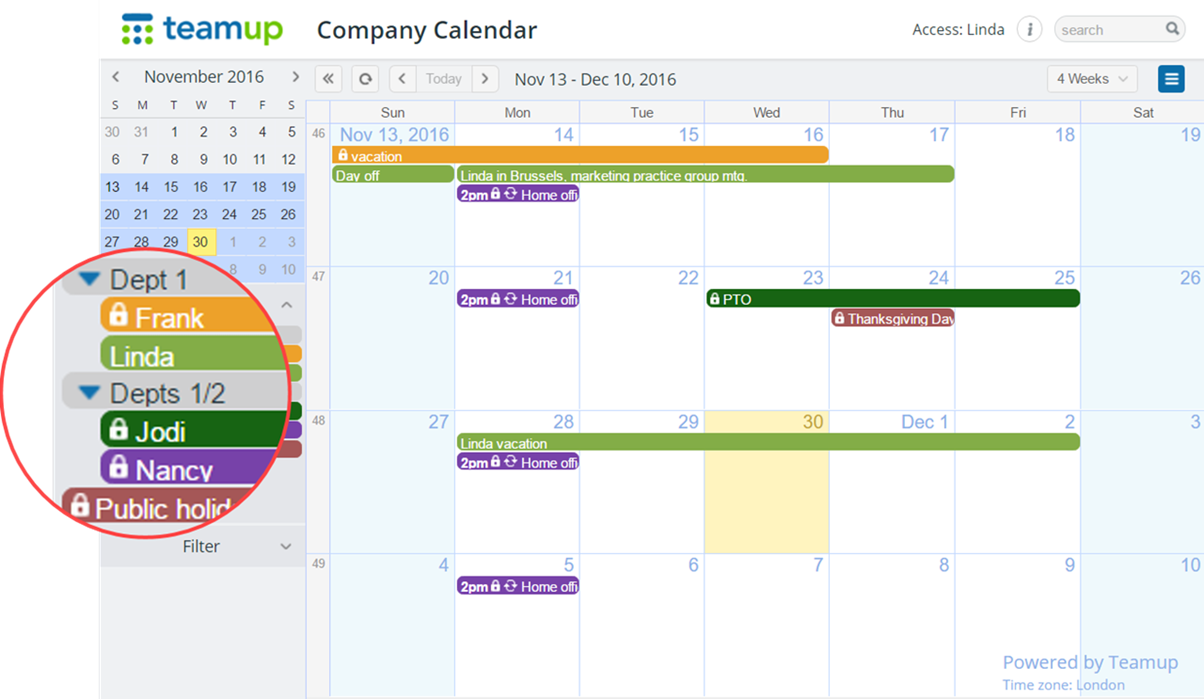 Optionally, if the employee would like to read his or her calendar from their personal calendar, like Google Calendar or Outlook, they could subscribe to the iCalendar feed of their Teamup Calendar.  To overcome delays of the refreshing frequency of the destination calendar, one may consider setting up email notifications so that you will be notified when changes occur on your Teamup Calendar.
Teamup can also be the destination calendar: One can pull in an external calendar like a Google Calendar to the Teamup Calendar by using our inbound iCalendar feeds functionality.  Both options are one-way and read-only sync, meaning the subscribed calendars can not be edited on the destination calendar.
Teamup is flexible.  If your needs are different from the case above.  You can easily adapt your Teamup Calendar to what would work best for you.  If you need help, check out the help resources or contact support@teamup.com.