The Hunter & Coastal Region Scouts Australia NSW needed a better system to organize club and group activities and coordinate all the event details for their scout region adventures.
"Our plan was to have a system that the Scouts parents and Leaders could see the various Adventurous Activities that we planned during the year and have a way to apply for the activity," explained Greg Denning, Regional Commissioner Activities. "The old system was not very good and we needed to get the word out about changes that were coming."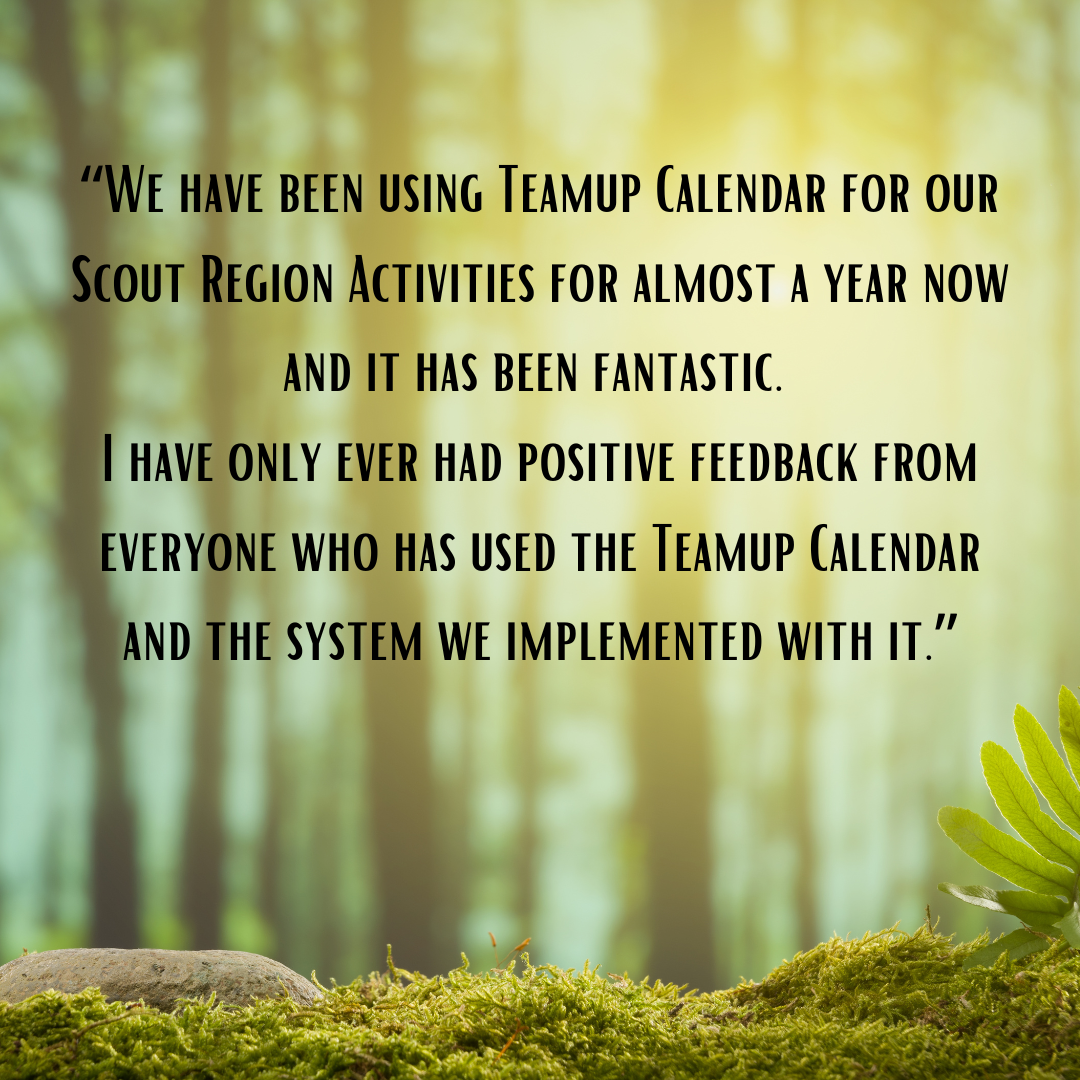 They took a few months to prepare before rolling out the new Teamup system to the larger group. "We streamlined how we wanted it to work and experimented with a a limited group of people just to make sure it was going to work as we expected," Denning said. "The Teamup Calendar fulfilled our needs perfectly."
Color-code and organize club and group activities
To make the system work, they want to have color-coded activities and provide all the information on the calendar.  Color-coding makes it easy for scouts and parents to find the activities they're most interested in.
Having all the information on the calendar allows parents to make informed decisions, and eases the communication burden on the scout leaders.
The Teamup Calendar fulfilled our needs perfectly. We had different categories, Bushwalking, Paddling, Vertical (Abseiling) etc, that were different colours and could be easily sorted. Each activity had enough information on the calendar to provided parents with activity type, age groups, if previous skills were needed, location (with map link), cost and a description of the activity with a photo.
Coordinate event details in one place
The other half of the system is the application for each activity. Scout leaders need to collect key details from each application to make sure each person has required skills and collect preferences when there are activity options.
They also want to provide easy payment options for the activity fees. They gather all this information with a form, so now they just add a link to the application form to each activity on the calendar. An automation sends an email for each submitted form, which allows scout leaders to keep track of how many scouts have signed up for each activity.
We also embedded a link to an "MS Form" which was the application to apply for the individual activity. The form also allowed them to have a couple of payment options. When the parent submitted the form it was automatically email to a couple of key people, myself, so I could manage numbers, know how many Activity Leaders were needed and to take down link when activity reached capacity and our Region Office who could process payments. During the year we also added a link to a feedback form so participants could give us some feedback after the activity.
Parents and scouts can filter the events by sub-calendar to find specific event types. They can view all the event details in one place and open the application form for the activities they want to participate in.
Keep the focus on the fun
Teamup is working well for parents and scout leaders, and helping get more scouts out to activities.
Since we introduced the Teamup calendar we have had a visible increase in youth members participating in our various Adventurous Activities which is what Scouting is all about.
And that's the goal: a system that works, and helps everyone do more of what they enjoy! Parents and leaders in the organization are happy with a system that is accessible, provides all the information, and helps the organization focus on doing what it does best: providing great experiences and adventures for the scouts.
I get comments like:
What makes it work
Testing, exploring, and building a smart structure: It takes a lot of thought to build a streamlined system that just works. Greg and his team spent time testing, experimenting, and trying out how it would work so they could ensure a smooth roll-out for the entire group.
Keeping all the information in one place: When you get in the habit of uploading files, images, and documents, it's easier to coordinate event details. You don't have to send them through another platform or worry about who has the latest updates.
Connecting all the resources and forms: Building a system doesn't mean limiting yourself to one tool. Use custom fields to include links to forms and other resources so you can use what works best and have easy access to all the parts of the system.
Try out all the Teamup features yourself with one of our live demo calendars, or get inspired with more user stories.