We always enjoy learning how Teamup customers use their calendars. And, just in time for the holidays, we want to share this fun user story. Andy's Creekside Nursery in Alabama, US, gets busy every year delivering Christmas cheer to their customers with fresh greenery, wreaths, garlands, and Christmas trees. Getting those fresh and festive decorations to customers is a big job, especially for Christmas tree deliveries running on a tight schedule. Here's how Teamup helps them stay on track with all the details for each customer.
Color-coding for delivering Christmas trees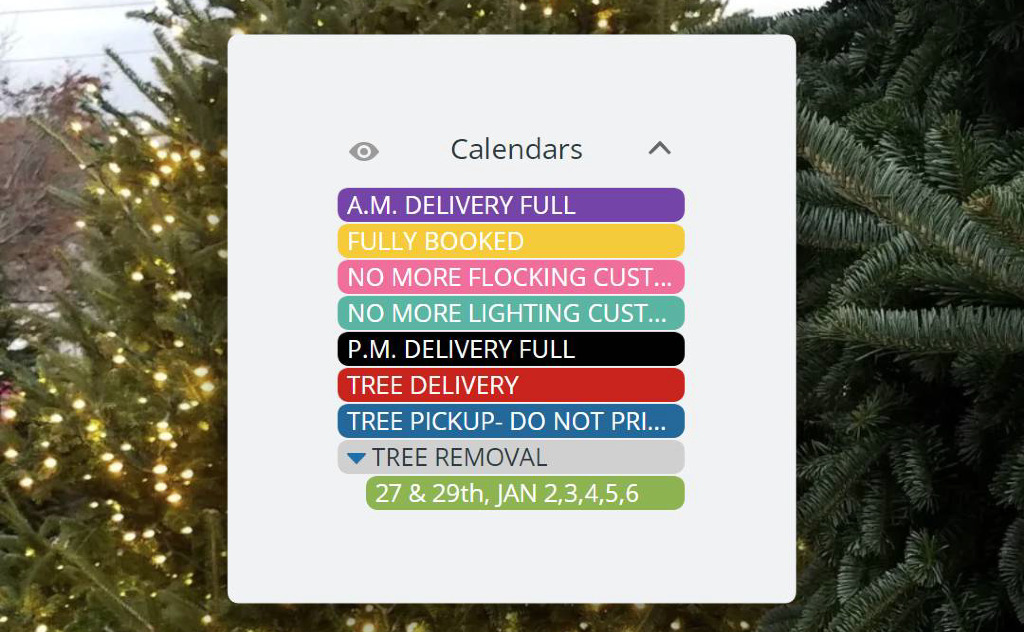 Colored sub-calendars make it easy for the team to quickly understand what type of service they're providing for each customer:
A blue sub-calendar indicates a tree will be picked up by the customers.
A red sub-calendar is for tree deliveries.
A green sub-calendar is for the tree removal schedule.
Having designated sub-calendars for each distinct service makes it easier to navigate a very busy calendar. When someone comes to pick up a tree, a staff member can quickly hide other calendars and search for the customer's name only in the tree pickups calendar. Delivery drivers can use the Teamup mobile app and keep only on the red delivery calendar in view. And of course, when needed, staff can search all the events across all sub-calendars for specific keywords or custom field contents.
Capturing festive details with custom fields
Speaking of custom fields, this busy business makes great use of them! They offer a lot of options for Christmas trees and delivery. For example, there are different tree styles and sizes. There are options for flocking and lights. Customers can choose to have the tree set up when it's delivered, and schedule a day for tree removal, too. Delivering Christmas cheer is better when it's customized for exactly what each person wants!
The team at Andy's makes great use of custom fields to capture all these details  and more: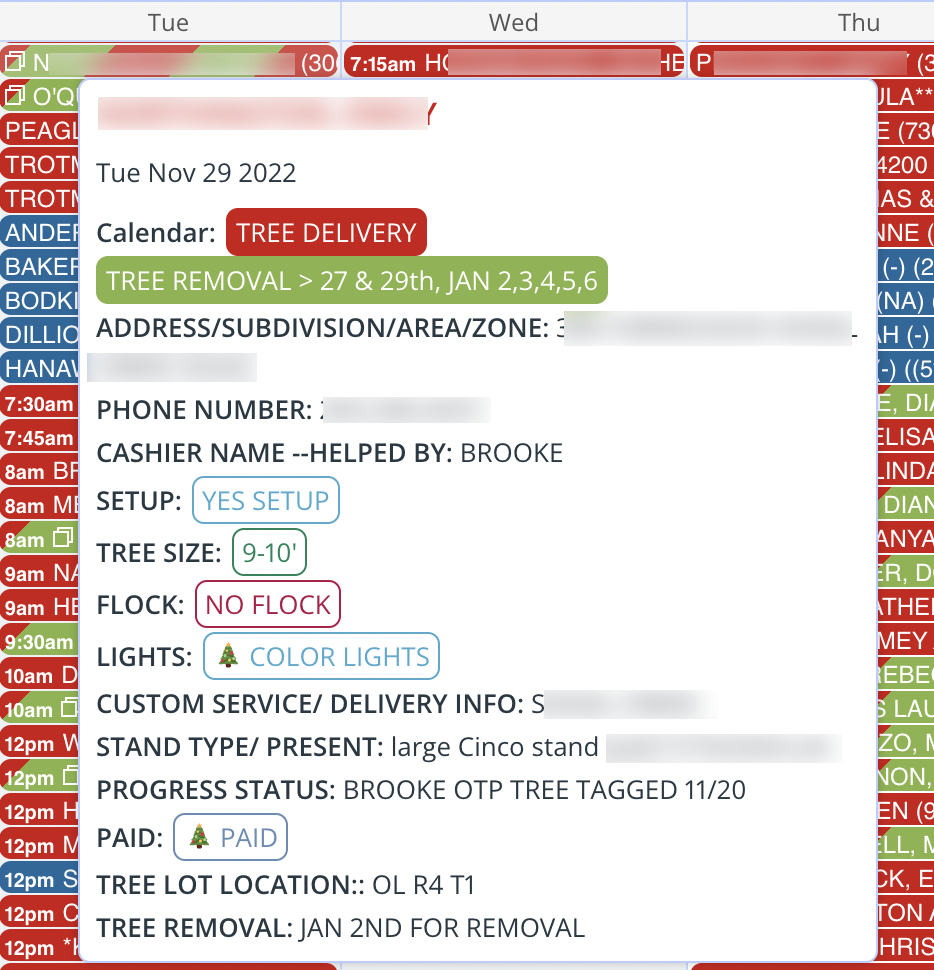 Custom fields with options indicate whether setup is required, what size the tree is, whether the bill has been paid, and several other predetermined options.
Custom fields with text entry work well for capturing information which varies with each customer, such as the type of stand being used, delivery information.
Working together for holiday happiness
Having all the information in one place makes it easier for every member of the team to do their jobs well.
At any point in the delivery process, a staff member can access the calendar and check details. When loading trees for delivery, they can make sure they've loaded and tagged the right tree size, from the correct tree lot location, with the options that the customer chose. Then, when the delivery is made, it's easy to check those details again to ensure the right tree is delivered to the right place, and set it up if that's part of the order.
"Before Teamup unfortunately we were using pen and paper to track these deliveries. This calendar has been a life saver. No more lost orders and scheduling and tracking is a breeze now!!"

–Laura K. Pyle, Office Manager
With Teamup as part of their system, delivering Christmas cheer is smooth and easy. Happy Holidays!