When it comes to childcare, communication between parents and caregivers is so important. A nanny journal, diary, or daily log is a tool often used by nanny services. Each nanny keeps a simple record of the day's activities and notes. They might add photos, record meals and nap times, make note of the child's mood or cute things that were said. It helps parents stay connected and in tune with their children. A nanny journal is also useful for tracking important items, such as administering medication. If different nannies provide care, the journal entries can help them maintain continuity for the children.
Factors for a successful nanny diary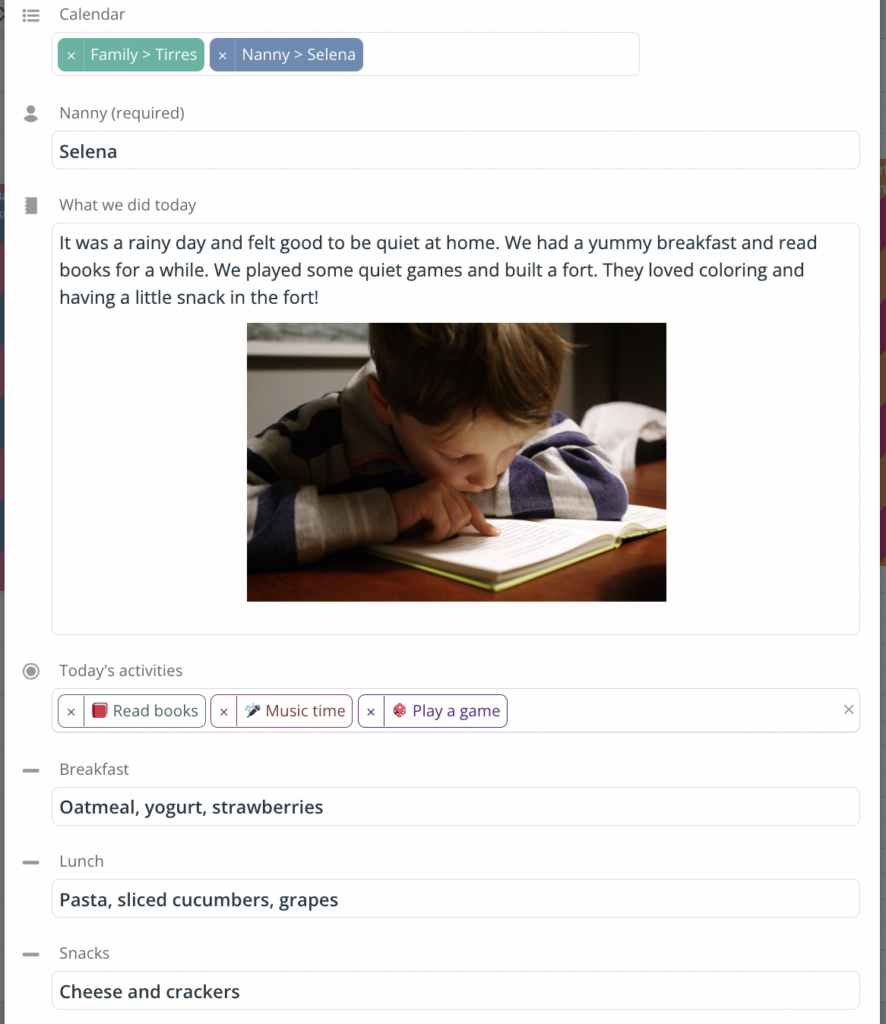 Many nanny services wish to provide a daily nanny journal for families. But they aren't sure how to set it up. There are several factors to consider:
Confidentiality for all the families and children using the service.
Ease of use for nannies so they can quickly and accurately record items.
Accessibility for parents to easily view the nanny journal.
Organization and review for the owner of the nanny service.
A Teamup calendar is a great solution. With Teamup, you can enable nannies and families to communicate easily. It's accessible but also secure. Let's take a look.
The Teamup solution for a nanny journal
Teamup is a secure, intuitive platform for easy communication between each nanny and the families they work with.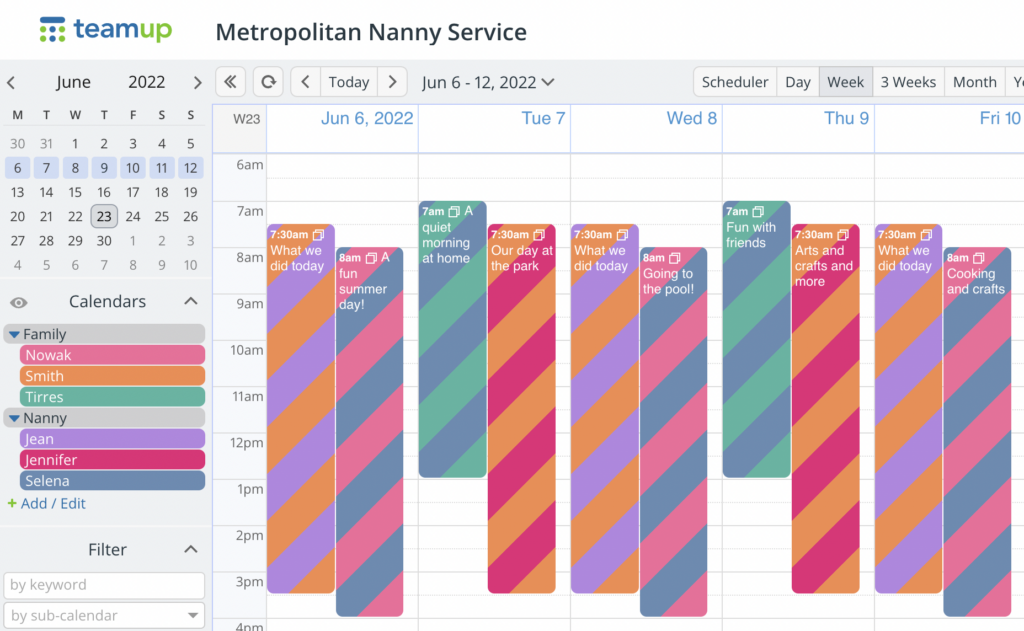 Confidentiality
As the calendar administrator, you control what each person can see and do on the calendar.  It's easy to set up the calendar so each family sees only the journal entries for their own children, even if they work with different nannies. In the same way, each nanny who works for the service can create entries for the families they work with, and not see the calendar entries for other families. This keeps information from being shared where it is not relevant and helps to maintain confidentiality for families, children, and caregivers.
Ease of use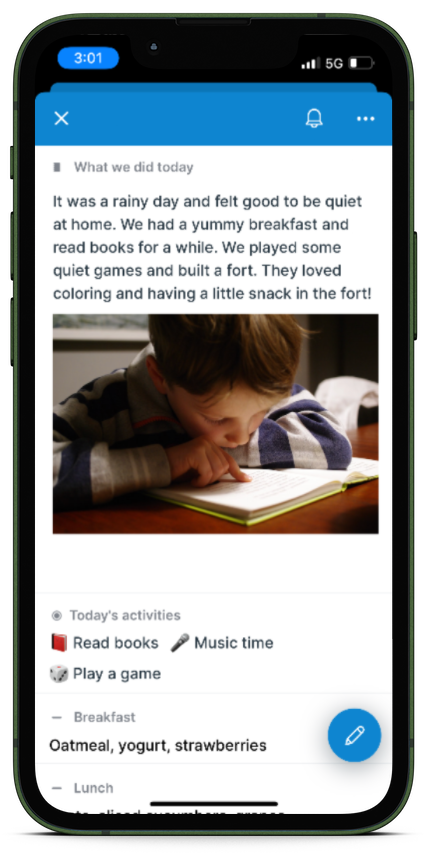 It's not likely that a nanny caring for children will have time to sit down at a computer throughout the day. However, they can use Teamup's free mobile apps to make quick journal entries. They can even upload photos for parents to see and enjoy! No need to transfer notes at the end of the day, or depend on memory to keep all the details straight.
Accessibility
If desired, it's easy to share access to the nanny journal through the website of the nanny service. For example, if there is a diary button on the website for each family, that button can be linked directly to the calendar. When that particular family clicks the link, they'll see their personalized view of the calendar. So, it's easy for the family to visit the website, click the Diary button, and see the day's log of events from the nanny.
Organization
As the owner or manager of the nanny service, you can administrate the calendar and manage access. You can also easily review all records for each nanny and family. Use built-in filters to sort all the data in various ways or search for keywords. See journal entries in different views and date ranges.
Teamup can be customized exactly the way that makes sense for your nanny service. It's more secure, accessible, and reliable than using a paper nanny journal or depending on emails or messages. Try a live demo today to see what Teamup could do for you.