Coming to a new country as a refugee introduces many needs and new logistics. From government meetings to medical needs to finding work and housing, there's much to be done. St. Luke Lutheran Church in Portland, Oregon has sponsored refugee families since the early 1970's. Part of the support they provide is to schedule needed appointments and provide help and transportation for the families.
We spoke with Jim Hensel about how they use Teamup to coordinate appointments and transportation among a team of volunteers.
Coordinating appointments and transportation
"Six years ago we sponsored a Syrian Refugee family and I was tasked with looking for a calendar system that would be online to allow better scheduling. Our experience had been and proved out that there are many appointments for a family of six – medical, dental, governmental and social as well as educational and employment appointments. All in all we had more than 200 appointments over the first two years."
Appointments may include things like English lessons, medical checkups, work interviews, and family activities.
"Many appointments required transportation as well. So we not only needed to schedule the appointment, we needed to schedule transportation. The person providing the transportation may be the same or different than the person accompanying the family member."
With multiple church members providing assistance and transportation, they needed a calendar to keep it all coordinated. Communication is key.
A shared team calendar
The calendar set up is simple: one sub-calendar for each member of the family receiving support, plus a sub-calendar for family activities and a sub-calendar for transportation.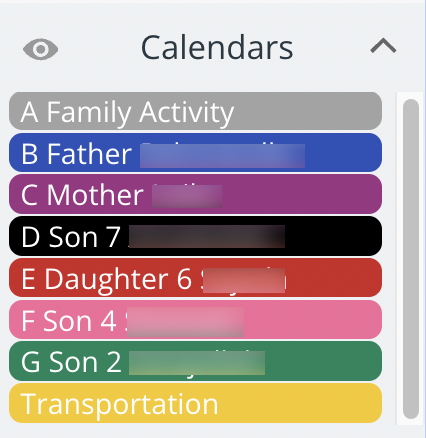 To use the calendar, the initial appointment or activity is added by the team member who's coordinating it. Team members "claim" transportation for an appointment by creating a second transportation event (in yellow, below). The transportation lead can review all of the upcoming appointments and make sure that transportation is covered. If an event doesn't require transportation, that's noted in the event description.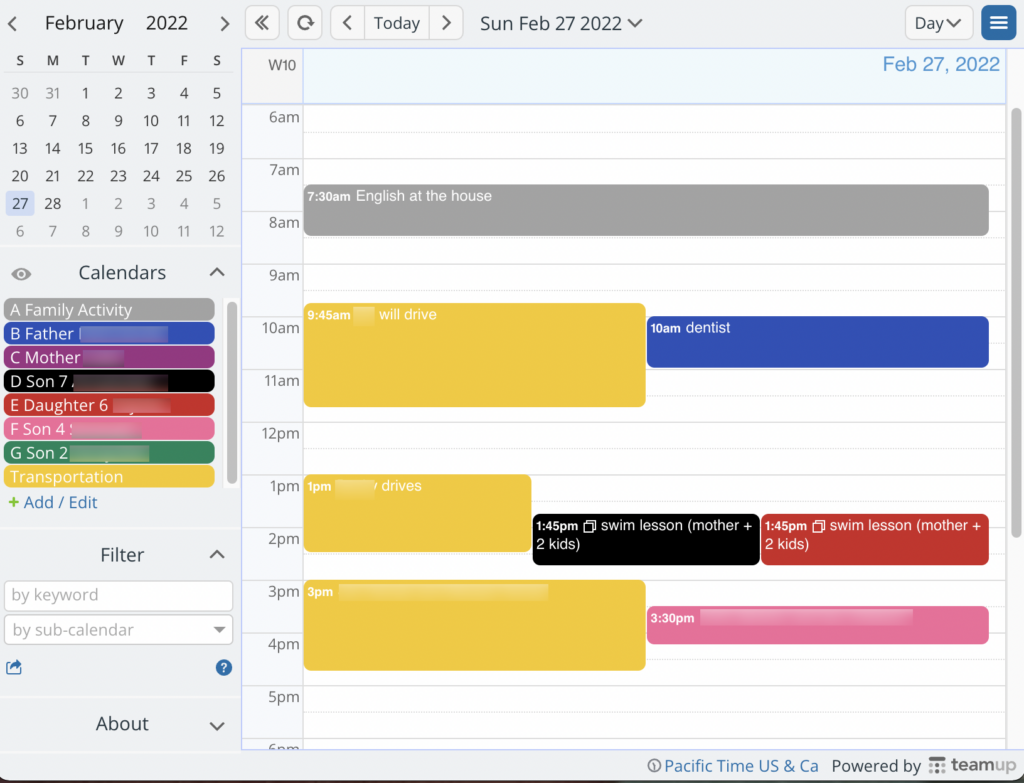 Shared information for coordination
Since one person might be making the appointment, another person providing transportation, and another person accompanying the family to the appointment, everyone needs to have the relevant information. Keeping all the details on the calendar makes this possible. Besides the title of the event, volunteers add the location address and make note of who might be going plus important details such as where to pick up, necessary documentation, special supplies or considerations.
Whoever is involved can check the calendar for the pertinent details. Even if a last-minute change happens, such as a change in who's providing transportation, all the information is available so things run smoothly.
We're glad Teamup could be a help to this worthy cause!