This is our December 2021 newsletter. Read the full content here if you missed it in your Inbox.
What's in it:
✻    ✻    ✻    ✻    ✻
Free to Imagine. Open to Create.
One product, a million solutions. Let's explore the possibilities and collaborate with our collective creativity.
Holiday greetings from the Teamup team!
We hope you have been staying safe and well. Regardless of how 2021 has gone for you, get ready to leave this year behind and start a new year full of hope, energy, and creativity!
Unlimited ways to get organized with sub-calendars
Orchestrating multiple teams, resources, and activities is the job of any leader, and we are all leaders. From leaders of a choir, to leaders of teams and organizations of any size. From explorers and visionaries with endless ideas, to operations managers executing processes of master plans. From caretakers of the elderly, to students juggling learning objectives of multiple subjects. Everyone is the leader of oneself, responsible for everything we do while creating values and joy in our lifetime.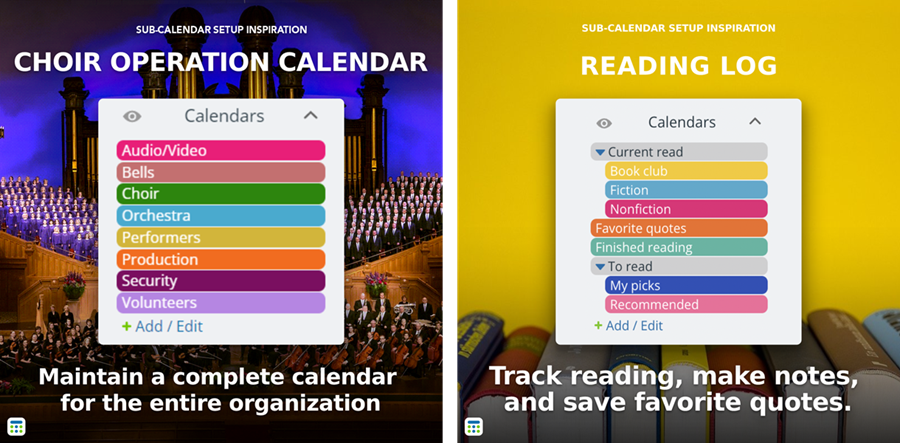 Imagine a Teamup sub-calendar as a theme list of things you keep track of. Make a master calendar with color-coded sub-calendars (as many as you need) to be the one hub for all the lists in your life or organization, or any context of its own. Read more →
Flexible custom fields to capture and organize information
Unleash the potential of your Teamup calendar far beyond appointments and reminders. Create easy-to-filter custom fields with multiple choices, keyword tags, and even numbers. Display your calendar in an Excel-like table with each field in its own column, and sort by field value to create the aha moments that you may have never expected from a calendar! Read more →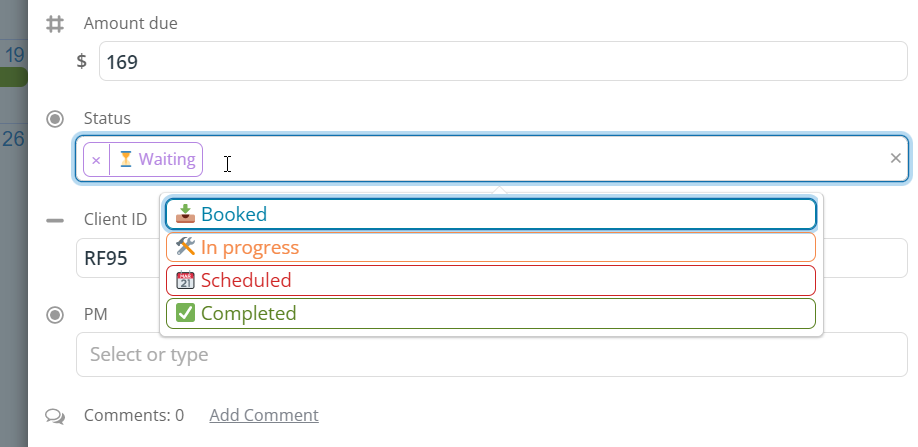 Become a Teamup Expert Partner and help create solutions
The opportunities are endless for match-making the needs of getting organized with the capabilities of Teamup. If you enjoy creating calm through systems and processes, and appreciate the strengths of Teamup based on your hands-on experience, apply to become a Teamup Expert Partner now!
SOLUTION INSPIRATION
Working remote is the new norm
The new norm of remote work has taught us new ways of communicating and collaborating. Many people have made the move to independent work or starting their own businesses. Teamup can help you stay organized with your team, or in your new role as an entrepreneur. Use powerful features to set goals, stay updated, track progress, structure your day, focus on the top priorities, and take time off without feeling guilty. Read more →
Better informed and coordinated: Co-parenting with less stress
Successful co-parenting across multiple households depends on clear and accountable communication. Keeping track of all that matters in one place makes life easier for all. Read more →
A year at a glance, closing open loops
The end of the year is the perfect time to look back, so you can move forward. Use Teamup's customizable Year view to revisit happy memories and big events. Review timelines and budgets for work. Find open work orders. See how you've progressed on personal habits and professional projects. Plan what will move forward with you, set goals and milestones for the year ahead. Read more →
Teamup for Year End Review and Closing Open Loops for Field Services
Managing availability and resources simplified
Keeping track of who and what is available is a common task in business and life. It's easy enough to book a room or send a calendar invite if it is just about one on one. But what if it involves a whole team or multiple resources? What if you need to keep client information confidential and ensure privacy for team members? Let Teamup help simplify the processes with unique permissions and customized access to your calendar. Read more →
Getting GTD-inspired
We are fans of the Getting Things Done methodology by David Allen and love to share how Teamup as a system can support GTDers to make it all work, from capturing to taking next actions. Read more →
For more inspiration, check out what our users say.
We wish you Happy Holidays and all the best for 2022!
The Teamup team
P.S. Teamup is now an official partner of Zapier, a workflow automation platform that connects thousands of apps seamlessly. Check out which apps Teamup connects with.