Teamup is a cloud-based calendaring application built specifically for groups. Its flexibility makes it simple and easy to manage the running operation of a small business: Employee vacations, resource availability, customer meetings, delivery schedules, and projects, just to name a few. Teamup focuses on being a simple, efficient and affordable web-based calendar solution that helps you get organized without endless spreadsheets and user accounts.
For small business owners, it's easy to create one centrally managed calendar to keep track of all things happening in one convenient place that is accessible anytime, anywhere. Sharing a Teamup Calendar with team members, collaborators, and even customers is a rapid and hassle-free experience. It is as simple as sending them a unique web URL with access permissions set by the calendar administrator.
Let everyone update his or her own schedule but only view that of others. Do you need to enable only a few people to be able to update the calendar and the rest of the team read-only or even more granular access control? No problem. Customize with any of the nine access permissions associated with each unique calendar URL. Updates are instantly accessible to everyone. Say good-bye to endlessly updating spreadsheets or emailing with attachments.
Scheduling made simple
Whether your need is about booking rooms for therapy sessions or staff scheduling at a fitness studio, Teamup makes it simple to see the statuses and availability at a glance. Scheduling conflicts can be avoided by disallowing overlapping events. It's easy to display a Teamup Calendar in any of the nine calendar views including a unique scheduler view as shown below.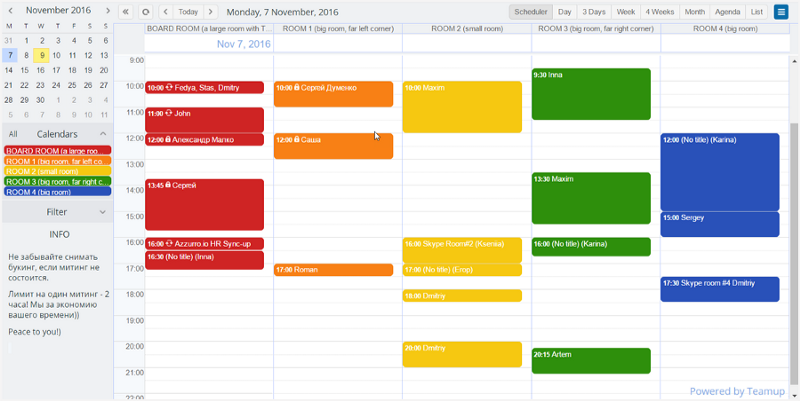 Color-code each room or team member. Drag and drop changing schedules and tasks. Zoom in to schedule at 5-minute intervals. Zoom out to plan for a whole year ahead. Upload pictures and files. Organize people, facilities, and projects in folders. Filter to show a specific sub-calendar or hide away an entire folder — it's only clicks away. It's so simple and easy to use that everyone in your team, even those not tech-savvy, may feel comfortable and start using it quickly.
Easily track all of the documents and details for your mobile crews
If you manage mobile crews who work on the road, it is challenging to get the right information to the right people at the right time. Teamup provides a simple and unique solution to this challenge. An event on a Teamup Calendar is much more than the time and location of an appointment. Job details, installation maps, technical specs, even contracts and warranties can all be uploaded and stored in one convenient calendar entry and accessible as a web page to the crews on the job site — anytime anywhere.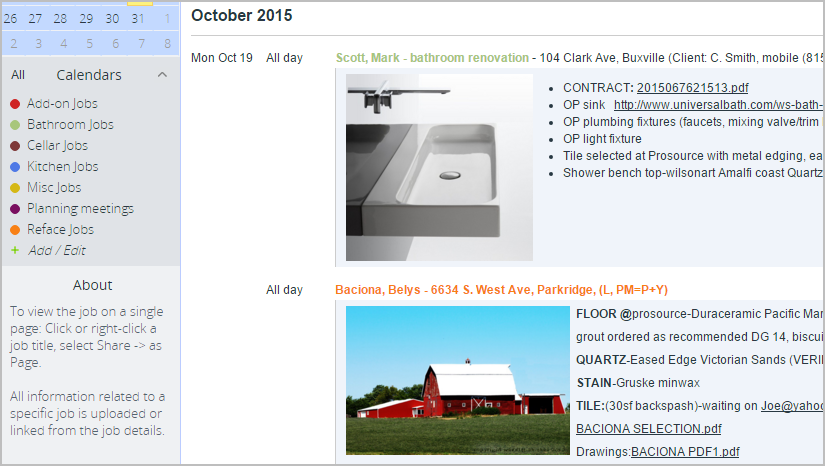 Pictures documenting pre- and post-jobs as well as proof of deliveries may save you countless time and money if disputes about a project arise.
Easy to start — it's free!
Teamup offers plans ranging from Basic (free), Plus ($8 per month), and Premium ($20 per month). The basic plan includes a majority of the functions Teamup offers with an unlimited number of users, up to 8 sub-calendars and one year of historical data. The Plus plan includes everything in the basic plan as well as a daily agenda, 12 sub-calendars and five years of data history. The Premium plan allows up to 50 sub-calendars, file and image uploading and 10 years of data history.
Regardless of the size of your team or type of your business, Teamup is a simple, efficient, and flexible web-based calendar solution that '"just works."