CampusAsyl is a non-profit organization based in Regensburg, Germany. They work with refugees both to meet immediate needs and to reach an end goal of integration and a greater understanding from the public towards migration and the people and reasons behind it. They use a Teamup calendar for simpler communication and a coordinated team to keep the work going.
Many people, many projects, many details
With 15 employees, around 300 volunteers, and work that reaches several thousand refugees, CampusAsyl has a lot to organize. Some of their projects include sports group, social 'safe spaces,' courses for women (in cooperation with Women Without Borders), distribution of donated items, and work counseling. Their work has a big impact and requires a coordinated team and good communication to keep everything in operation.
A coordinated team with Teamup
"We use Teamup for the coordination of events, projects and appointments. With the help of the calendar we can easily see which person is responsible or attending which appointment or project. The greatest benefit we see is that everyone can see and change everything."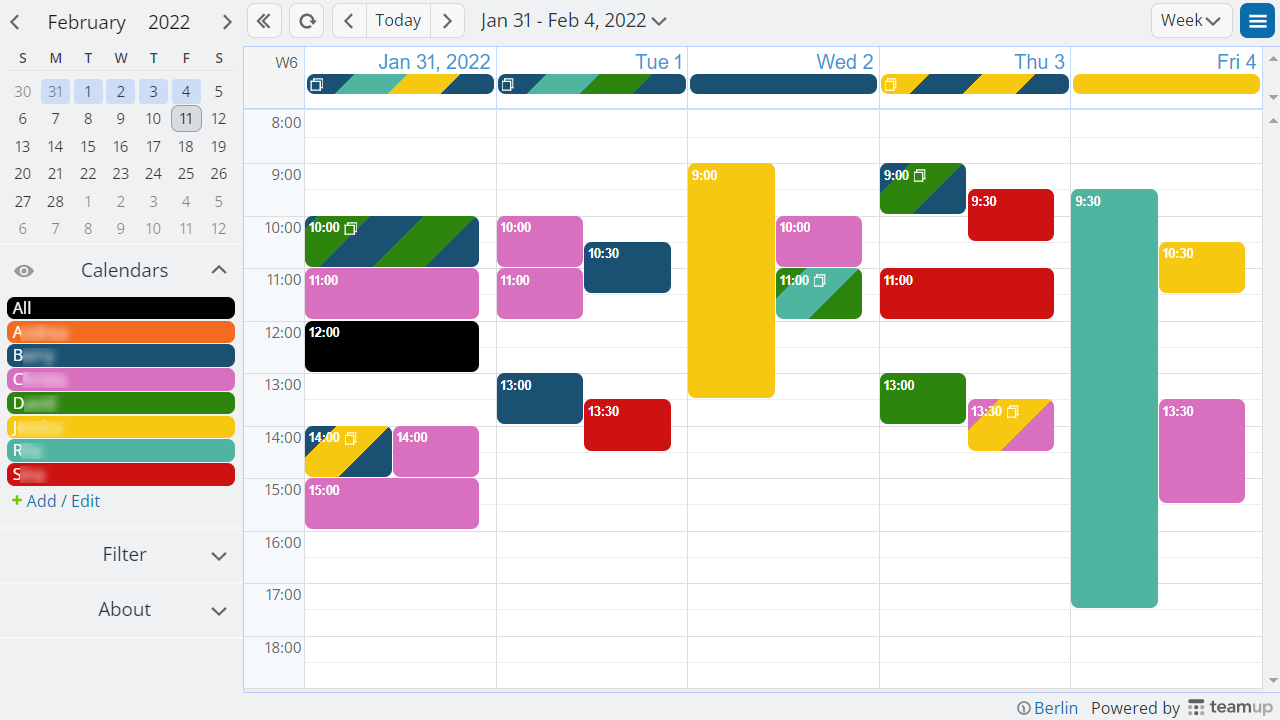 Manage your own schedule: each team member can have their own sub-calendar, add and modify their events as needed, and post their schedule, availability, and commitments.
Schedule mandatory events: the dedicated "All" sub-calendar can be used to indicate meetings which require the whole team's participation, without needing to add the event to each person's sub-calendar.
Indicate participation: if a team member wants to indicate that they'll be part of a meeting, they simply add the event to their own sub-calendar. Striping on the calendar shows who is planning to participate:

Colored striping shows that the event is on multiple sub-calendars.
Simple team communication
The ability for each person to access the calendar has reduced information bottleneck and made teamwork easier:
"Working as a team has become a lot easier due to the simpler communication. If you want to know who can help at a specific date now, you can just look at the schedules of others instead of the usual time-consuming asking and waiting for everyone's answers."
At a glance, each person can see the schedules and availability of others. No need to message or email asking if a certain person is planning to attend a meeting; simply check the calendar. The biggest benefit of a coordinated team and clear, simple communication is that their energy can go toward helping others and achieving their goals as an organization.
We're glad to be part of the important work this organization is doing. Learn more about CampusAsyl here, or create your own Teamup calendar here.