With a Teamup Calendar that makes scheduling easy and efficient, this non-profit manages a staff of four, and 100+ volunteers providing an audio news and information reading service to those who find it difficult to read printed materials.
Many thanks to Chad Butterbaugh, Mark Lahey, and Georgean Johnson-Coffey of the Audio Reading Service for sharing their story!
About the Audio Reading Service
The Service is for any individual who is unable to read traditional printed material because of blindness, low-vision, a literacy issue, language barrier or a physical condition, such as stroke, MS, Parkinson's or arthritis which makes it difficult to hold a book or turn pages.
The Audio Reading Service broadcasts the reading of local newspapers, magazines and more for listeners with challenges to reading normal print. Local information includes grocery ads, sports, obituaries, events, people and places. We also broadcast the reading of magazines ranging from Entertainment Weekly and People to The New Yorker, The Atlantic, Prevention and Sports publications.
With a staff of only four, and over 100 dedicated volunteers, we record, produce, broadcast, stream, podcast, and nationally distribute these recorded readings. We air original programming 24/7/365, and our three recording studios and edit suites are busy eight hours a day, Monday through Friday, and on weekends.
As a department of the Allen County Public Library, in Fort Wayne, Indiana, this service is provided at no cost to listeners.
How Teamup Keeps Us Afloat During COVID-19
The COVID-19 pandemic in 2020 had a particularly distressing effect on our organization: It became unsafe for volunteers (and most staff) to come into the studios to do their recordings right at the very time when our listeners were most in need of accurate, timely news reporting. Our local newspapers and magazines were awash with critical information about the virus's spread, how people could protect themselves, which schools and other public services were shutting down, where food and mask distributions were happening, and much, much more info that our print-disabled listeners absolutely needed to be able to access.
Our volunteers understood this predicament, and many wanted to help from home. We created new protocols for having volunteers record from home. After the library opened back up in a graduated fashion after a lengthy closure, Teamup allowed us to seamlessly integrate our remote and in-person volunteers in the day's workflow. Dozens of returning volunteers had to be rescheduled at all-new times, and it was a cinch to see at a glance which times were open and which ones weren't.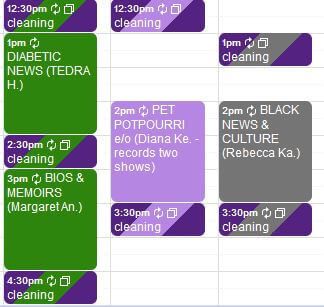 Once back in the building, most useful for us is TeamUp's ability to create new color-coded categories for remote and prerecorded shows, and for the mandatory disinfecting time between studio recording sessions. We can change the duration of entire batches of recording sessions with a single click—and if a volunteer decides they wanted a different timeslot, that is just a click-and-drag away, too.
Not only does this allow us to keep delivering our product with a minimum of interruption, it projects stability and confidence to the volunteers that make that delivery possible. They can look at the calendar in their browser or mobile app at home to confirm their studio time, look for sub opportunities, and see if rescheduling is possible—and as they do that, they can see that the machinery of our overall production keeps humming along, with clear COVID-19 protective measures in place.
The Benefits of TeamUp
The calendar is always up-to-date.
When changes occur, it's easy to update the calendar via computer or with a Teamup mobile app for iOS or Android. All changes are instantly accessible to all users. No more messaging, emails, or phone calls to make sure everyone is updated.

Categories can be color-coded.
Differentiating various opportunities and needs on the calendar, using color-coded sub-calendars, makes it easy for staff and volunteers to find the information they need easily. For example, substitute reader opportunities are distinguishable from events with substitute readers already scheduled.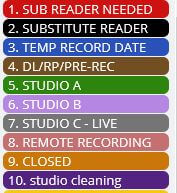 It's easy to share.
All that is needed to access the calendar is a calendar link that can be opened in any connected web browser, or using a Teamup mobile app. Calendar administrators can create, modify, or disable these calendar links at any time, as needed. And staff can control levels of access, with only certain users being authorized to make alterations.
It's available anywhere.
Volunteer readers don't have to be in the department to check the schedule. With Teamup mobile apps, volunteers are able to access the calendar both on the move and even when offline.
How the Audio Reading Service Impacts the Lives of Its Listeners
It is a privilege for staff and volunteers of the Audio Reading Service to serve our listeners.
We often hear from listeners or family members.
"Love this service! It has helped my dad stay informed of daily news, in a format he can use. The inclusion it provides is priceless!"
"May I congratulate you for the audio-reading-service articles that are made available through the Allen County Public Library? They offer me some new vistas. Keep up the good work."
"One of the best features of your service for my mom is the human voice. She is 94, blind and lives alone… your readers are her companions."
We also serve listeners like Hilda. She became an Audio Reading Service listener in 2004. When Hilda recently passed away at age 102, she was totally blind. The Audio Reading Service was named as one of Hilda's memorials. At her visitation, Hilda's daughters shared, "My mom loved your service. It was her life. Her whole day centered around your readings…You were her eyes."
The Audio Reading Service appreciates Teamup for helping us be Hilda's eyes.
Learn more about the Audio Reading Service by Clicking here.
Thanks again Chad Butterbaugh, Mark Lahey, and Georgean Johnson-Coffey of the Audio Reading Service for sharing this wonderful story!
This is the 2021 update of the original story published in 2018.