As a distributed team working over 3 continents, the Teamup team missed our annual meetup in 2020. As the end of the year drew closer, we looked for the best way to celebrate and cheer up together. After all, everyone worked hard and did our best to support our global community of Teamup users to meet the organizing and scheduling challenges in this unprecedented time of pandemic. The virtual holiday experience over Zoom offered by Arigato Japan made it to the top of our choices.
Survival and support in a time of uncertainty
Arigato, a food tour pioneer, was one of the businesses that got hit hard as the pandemic broke out. Their tour bookings on a Teamup Calendar went from a super-lively colorfest to an all-black of cancellations, and their team was reduced from more than 70 to less than 10. For any business facing such a moment, minimizing operating expenses became a survival necessity. Having been relying on Teamup for their business-critical tour and staff scheduling since 2017, Arigato reached out to Teamup and asked for some flexibility on changing their subscription temporarily.
The Teamup team felt the pain with Arigato and offered our unconditional support. We decided to refund the remaining credit of their existing subscription but kept the service running without scaling down so they could jump back in as soon as their situation changed. Nobody knew when things would get better, but we could be prepared for the best and minimum interruptions. Our goodwill was not taken for granted and we received these heart-warming words from the other side of the world:
"We appreciate your kindness and we will make sure this is known to others. We will be very loyal customers of Teamup and will be one of your Ambassadors in Japan. Please send our best regards to your CEO, and the rest of the TEAM UP team." Thank you Anne @Japanfoodtour #foodtour pic.twitter.com/6P2KneCDzf

— teamupthanks (@teamupthanks) October 29, 2020
Virtual Experience in Japan
Although our world is still suffering from the pandemic, we are delighted to see the way Arigato has energetically re-emerged into this new reality. They have launched a series of online experiences open to anyone in the world without traveling: Experience Japan and the Asian culture within the comfort of your own living room.
Lucky day for the Teamup team – we had so much fun experiencing a virtual holiday tour in Japan, hosted by our dear customer and friends @Japanfoodtour Thank you so much Lauren and Anne!

— Teamup Calendar (@TeamupCalendar) December 23, 2020
Celebrate together
On December 23, 2020, teams from Japan, Australia and 5 countries across Europe from Arigato and Teamup were super-excited. We brought our best holiday mood, broke out our Santa hats and Christmas sweaters, and plenty of curiosity, ready for a new discovery. It's been a tough year: time to celebrate and laugh together! Anne Kyle, founder and CEO of Arigato, and Lauren Shannon, our host of the Holiday Experience in Japan, started by sharing their love of Teamup. Hearing Anne and Lauren speaking about how Arigato integrates Teamup into their daily operation and what differences it has made for their team and business was powerful and motivating for us at Teamup, and especially so for our engineers who mostly create magic experience with code rather than direct conversations with our customers.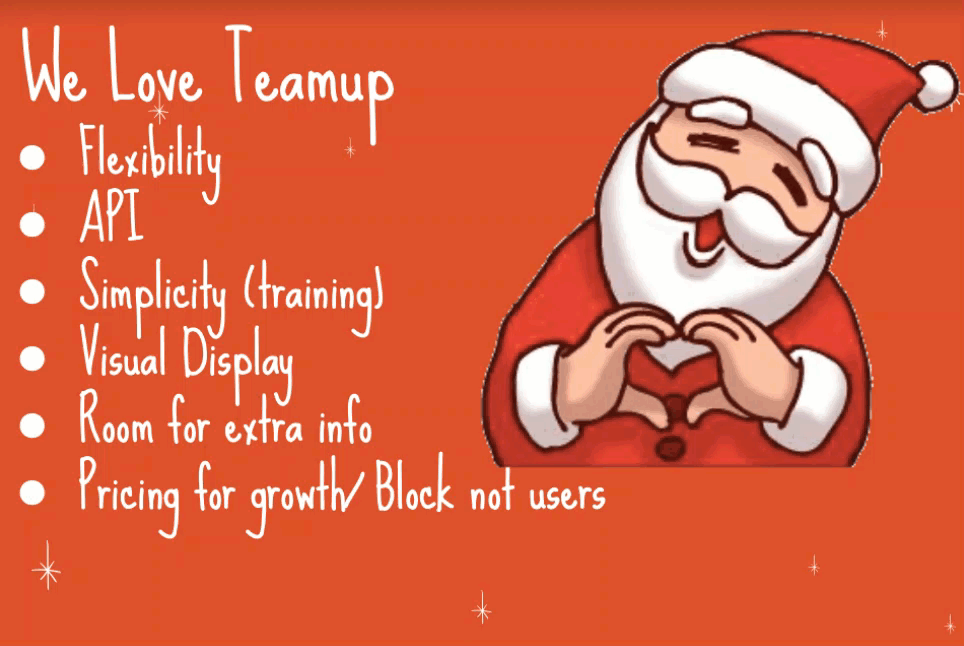 Discover the holiday culture in Japan
Lauren is such a warm and lovely host who took us through the holiday traditions interactively, with a perfect mix of the humorous westerner's eyes and a profoundly knowledgeable local voice. Some highlights from our discovery tour of holidays:
Everyone loves food – it's a traditional way of bringing people together. The joy is special when it comes with our holiday foodie traditions, whether it's Swiss sausage, American gingerbread houses, or Japanese Christmas Cake featuring strawberries and cream!
It's tricky to make an origami Christmas tree. Our code wranglers are challenged with hand-crafting skills!
Now we know where Japanese children send letters to Santa…
All things lucky are important in Japanese culture – and some people get really lucky at New Year…
There were so many interesting stories, and we had so much fun! Arigato Japan knows all about the traditions of food at New Year. We found out all about Toshikoshi soba on 31 December; o-toso sake; and the most loved ozoni. And let's not forget the kagami mochi and mochi pounding – have a look at how the experts do it, but DON'T try this at home!
And finally…
We also learned how to say akemashite omedetou – Happy New Year in Japanese. And we all managed it, although some of us had completely forgotten it 5 minutes later!
We'd like to say a heartfelt akemashite omedetou to Anne, Lauren, and team Arigato, who've used their creativity helping people to break out of the prison of lockdown and experience Japanese culture in a fun, interactive and informative way.
New year, new start. Let's share the love and hope for a brighter 2021 ahead. If you're ever looking for ideas on how to recharge your energy or celebrate together virtually, regardless of where you are, check out Arigato's Online Experience. We highly recommend these online tours, particularly to teams who are spread around the world!
And we'd like to wish all our loyal customers a Happy New Year – may 2021 bring luck and good things to every one of you.