How do you keep drivers updated on a changing bus route or delivery schedule? In some cases, the route may be finalized a week or day ahead, with no changes on the same day. In other cases, the route or delivery schedule might change in real-time throughout the day. As a supervisor or scheduler, you need an efficient way to keep your drivers up-to-date–whether it's for a bus run that's set for each day, or for a route that may adjust as the day goes on.
Manage a changing bus route with Teamup
If you manage a bus route or delivery schedule with a Teamup calendar, it's easy to keep drivers updated each day. You can easily print a schedule for the day's route. Or you can give the drivers secure mobile access for real-time route changes. In either case, you'd be able to see the route schedule for all drivers, but you can limit what each driver is able to see. So you can print or share a customized view of each driver's schedule showing only that individual driver's route or stops for the day.
Let's take a look.
Print a route schedule for drivers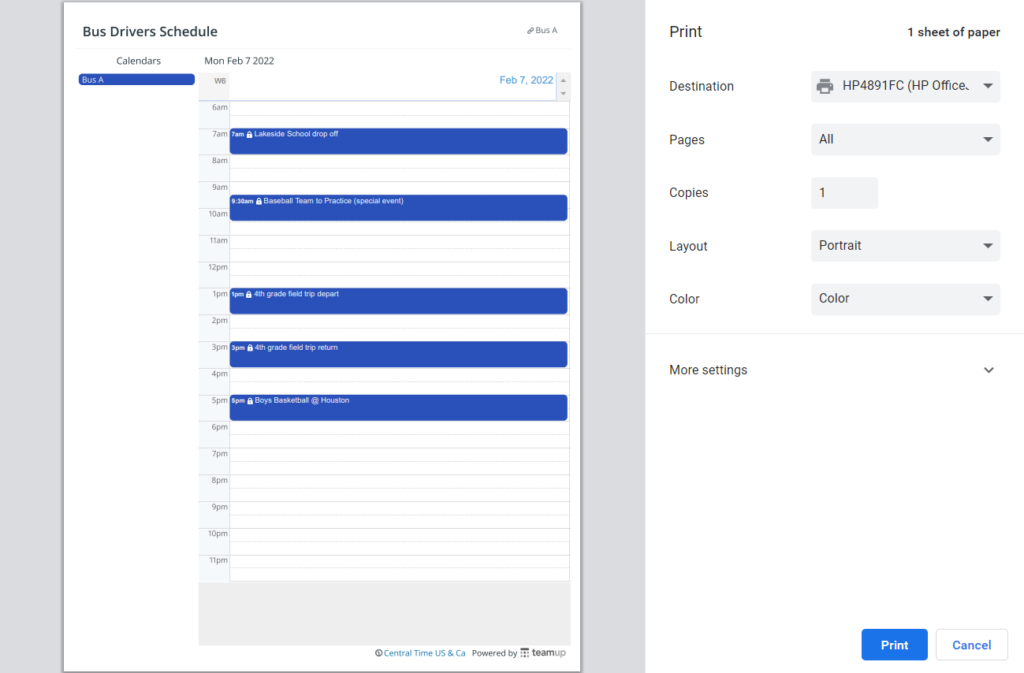 Printing a route schedule works well for a changing bus route or delivery run that is finalized for the day, and won't change again once finalized. In this type of context, drivers typically know how to get to each stop. However, the order or timing may change day to day. A printable schedule is perfect. Drivers can review the route in the morning and keep it handy for reference throughout the day.
You can print in the format that works best for your system and your drivers. For example, print a whole week at a time, or print each day's route individually. If you want the driver to have the details for each stop, use Agenda view with details included. You can print each route schedule with a custom title to keep printouts sorted and easy to identify for each driver.
Mobile updates for a changing bus route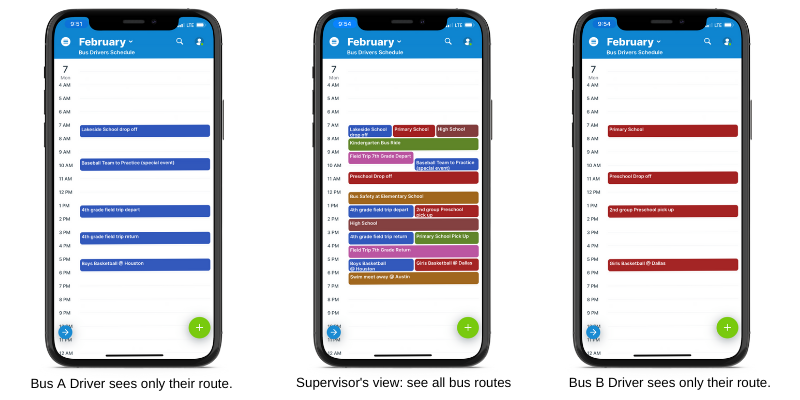 For a route that might change throughout the day, giving mobile access to the schedule is best. The details for afternoon deliveries may change while a driver is making morning stops. You need a way to share real-time route updates with the drivers. With Teamup's mobile apps, it's easy. The scheduler updates the route information on the calendar. Each driver can check their route periodically to see the most up-to-date schedule. If there are new stops on the route, the address can be added to the Where field and opened in a map easily.
You can give each driver access to only their route by sharing only the relevant sub-calendar. So Driver A will see only her stops on the mobile app. Driver B will see only his stops. Office staff can see all route schedules.
Learn more about printing calendars, or create your own Teamup calendar.