Finding a blank calendar template sounds easy, right? It turns out to be a surprisingly difficult task, especially if you have a specific need. We're not all programmed to start every project or set every goal to begin on January 1st but choices become limited pretty quickly.
Make no mistake, there's no shortage of free calendar templates. The Internet is littered with companies offering you templates in every shape and size, every color and every format.
The problem with blank calendar templates
But here's a challenge for you – try to find the exact calendar you need, with the date format you want to use, and starting on the date you want.
It starts to become difficult.
Now add in a few minor but critical features like the calendar having enough space to write on, or you being able to print it in the aspect you need, or choose the day the week starts, and frustration sets in.
At this point you abandon hope of getting the free calendar the way you want.
If you decide to invest in a calendar template, you may end up buying a package of templates for the sake of getting the one blank calendar template you need.
Chances are that particular template is going to have constraints that make it difficult to adapt over time. You may spend a lot of time learning how to use the template – or finding workarounds – trying to fit your project into the calendar instead of making progress on the project itself.
The perfect solution
An alternative to all that stress is to use Teamup to create your own blank calendar. It's simple and free!
Take this example for planning your summer vacation:
Rolling 10-week calendar
Starting in the end of June and finishing in the beginning of September
Weeks to start on Monday
Blank boxes for each day, big enough for quick notes or keywords
Prefer starting from a template? Sure, head over here and pick up your favorite layout. Click on the link below each template preview to launch the live blank calendar. You can change the view to display it in many different ways or make adjustments to any other aspects.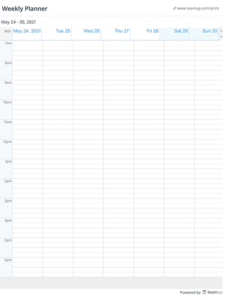 Here are some of the most frequently requested dynamic templates:
You can print it to any number of formats to fit on any size paper, or customise your free calendar template for a wide variety of settings including date format, language, time zone, and calendar title.
Make your own printable blank calendars
The possibilities for creating free blank calendars are limited only by your imagination when working with Teamup. You can quickly build the calendar you want and customise it for your specific need. There's no longer any reason to waste time with online searches looking for the perfect calendar. You can make your own.
If you are new to Teamup, make sure to check out the Getting Started guide. And there are many inspiring stories and tips on our blog.