It's a fresh season with fresh energy. Green leaves are dressing up the trees and colorful flowers are blooming. Spring has arrived for those of us living in the northern hemisphere. It's time to share what's new in our product, wonderful customer stories, and solution highlights that are so inspiring!
Product News
New custom date range on Table view
The new Table view displays your calendar data in a tabular style similar to a spreadsheet, with each event field in its own column. Now you can define your custom date range in addition to the predefined day/week/month ranges. A predefined year range is coming soon.
Try a live demo here.
Tap-to-call phone number on iOS app
In the event description field, phone numbers are now shown as clickable links. Simply tap on it to bring up the call option.
Teamup is now available in Russian
Thanks to our wonderful translator Vicky, Teamup is now available in Russian. To check it out, open the drop-down menu from the blue menu in the right-hand corner, then select Language.
Quick Tips
Our support desk is one of the most interesting places to work and to be helpful. It's also full of challenges. Feedback from a recent support case has shed light on a possible pain point for many Teamup users:
Clearly, Teamup is very powerful; so powerful that it's a bit daunting to initially set it up correctly. Thanks so much…really appreciate your help!
To ease the burden of calendar setup we are now providing smaller, more focused tips to show how to achieve a specific goal using a particular product feature. Here are the latest:
Stories & Inspiration
How Teamup Helps Keep Audio Reading Service Afloat During COVID 19 and Impacts the Lives of Its Listeners
The Audio Reading Service broadcasts the reading of local newspapers, magazines and more for listeners who have difficulty reading normal print. The non-profit relies on Teamup to manage its scheduling challenges with a staff of four and 100+ volunteers who deliver original programming 24/7/365 over the air. We are glad to be part of the collective effort that impacts the lives of so many people.
Read the full story or listen to their podcast at audioreadingservicepodcast.com
How Teamup helps 6000+ people in more than 20 time zones find meditation groups
Roger Sessions, founder of Meditation Chapel who administers the Meditation Chapel Calendar, shared this story:
"We are using your calendar to schedule mediation groups in 4 different virtual chapels, all of which are running 24 hours a day. We have 150 online meditation groups meeting in those chapels, and those groups are scattered over 10 different time zones. We have more than 6000 people using our calendar to find meditation groups, and those people are scattered over probably 20 time zones. We use custom fields to allow people to search for groups by language, chapel name, or faith tradition. Your excellent support for showing calendars in a viewer's local time zone is what makes this all work for us."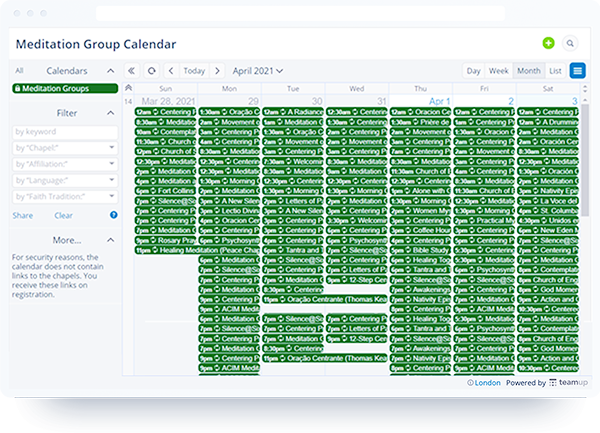 Check out the user guide for how to use this calendar.
Preparing Your Directors for Effective Board Meetings
Regardless of the talent around the table, too many board meetings end up being ineffective. It nearly always comes down to one reason – lack of preparation. And often, that lack of preparation is because the board did not have time to review their board papers before the meeting.
Instead of sending the pack all at once after it is complete, what if board updates are accessible online as the pieces become available? Board meetings are often scheduled months or a year in advance. CEOs can use a Teamup shared calendar to stay organized and centralize access to the board pack for a specific board meeting long before the meeting date.
A Million Ways to Use Teamup
We are grateful for the never ending stream of feedback from our customers and say thank you:
"'We use it' for the whole company to be aware of each persons movements on a day to day basis." Thank you Barbara!

— teamupthanks (@teamupthanks) March 24, 2021