As seasons change, we're continually making changes and improvements so Teamup is the best calendar for you. This month, our Zapier integration, how to create a personalized conference schedule, a new user menu on our Android app, and improvements all around.
---
What's new this month
---
"We have been using TeamUp for our service scheduling for months and I want to commend you on a great product. It not only has been a lifesaver for our service technicians, but also our office staff in communication when things change and helps greatly take care of our customers in such an easy manner." – Angela
---
Product Updates
New! User menu on Android app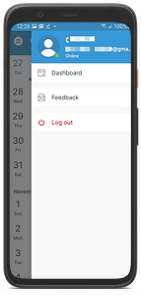 The Teamup mobile app for Android has a fresh addition: a new user menu, which can be opened from the user icon in the top right corner. We've moved those important user functions–like login and log out and your dashboard–to this handy menu. This allows the left calendar menu to be more streamlined and focused on your calendar.
We hope you'll love the new arrangement!
Learn more about the Teamup app for Android→
Improvements: export, Timeline view, repeating events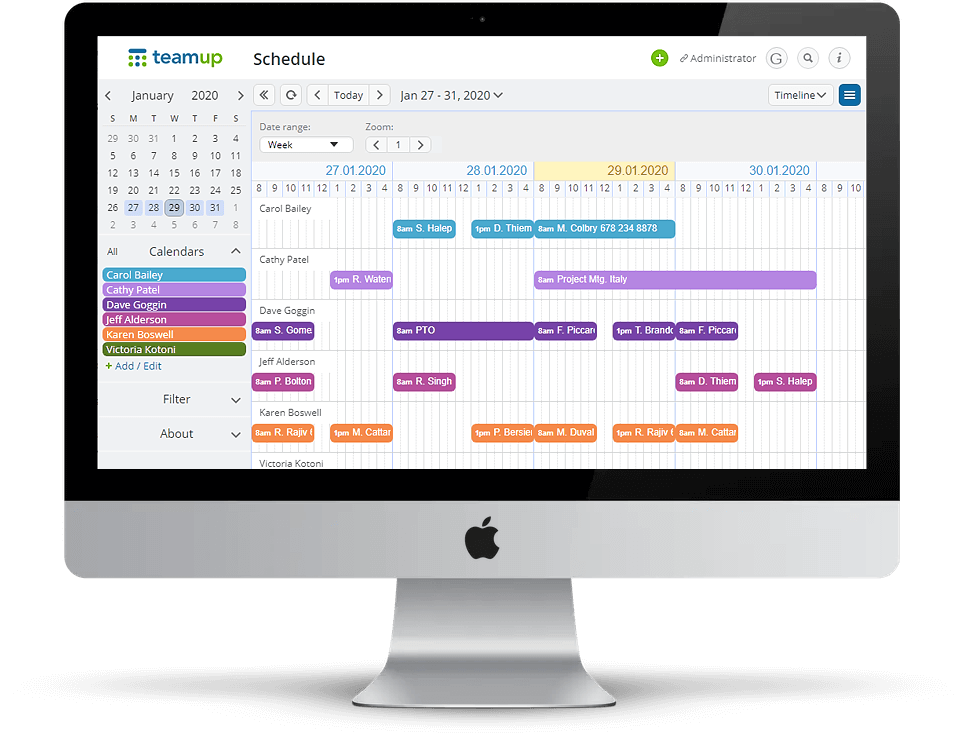 A few noteworthy improvements rolled out this month:
Export and import when using the iCalendar format now supports custom event fields. You can use this ability to transfer events–with all custom fields included–from one Teamup calendar to another Teamup calendar. Make sure the custom fields have the same names in the source calendar and destination calendar.
Do you already love the Timeline view? Get ready to love it even more. Our latest update increases performance and speed for the Timeline view. If you're not already using this unique, powerful calendar view, try a live demo.
New and improved time zone management for repeating events: We've now added the ability to manually set the time zone for recurring events. This is important when creating events for individuals in multiple time zones, since daylight savings times (DST) has different dates in different regions. Learn more.
---
"I adore your software and have been promoting it to many of my colleagues. My work often involves virtual events like workshops, summits, and conferences that last days or even weeks, where there is an element of self-organizing involved, and yours is the best software I have found for supporting that." – Ben
---
Conference Agenda for Content Marketing World
Check out this Guide to Using the CM World Agenda for the Content Marketing World 2020, a virtual conference with hundreds of speakers on a wide range of topics. To make the most of a conference with many options for speakers, lectures, workshops, and other events, it's good to plan your own personal conference schedule.
"Because this year's event is virtual, you do not need to select your schedule in advance, but we do recommend planning your week ahead of time for an easier time navigating the virtual platform."

Content Marketing World 2020
You can make sure you are present and focused for the events most important to you, and adjust plans to keep up with changes and learnings throughout the week.
With Teamup, you can easily import the conference agenda and plan your personal conference events schedule:
See more examples, details, and videos here, or, try out this embedded conference agenda calendar on Teamup's Facebook page.
---
"We have been using Teamup to manage our Virtual Conference Session Recordings for a little while now and we plan to continue using the system through 2021 and beyond." – Renae
---
Zapier and Teamup: better together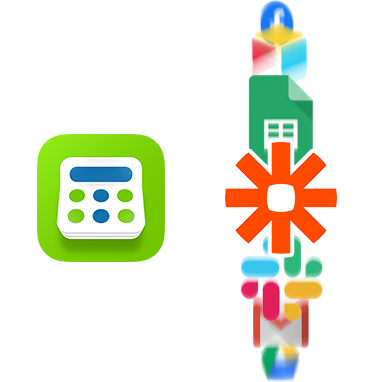 Teamup is your calendar; Zapier lets you connect your favorite calendar with your other favorite apps and services. Do you track projects and tasks on Trello? Want to keep a log of calendar events in a Google doc? What if you could send an automated email to remind clients of an upcoming meeting?
Now you can! See triggers and actions, below, or jump ahead to three of our favorite examples:
These solutions–and many more–can be created easily with Zapier and Teamup.
Update December 2020: You can now search for Teamup Calendar in the Zapier directory: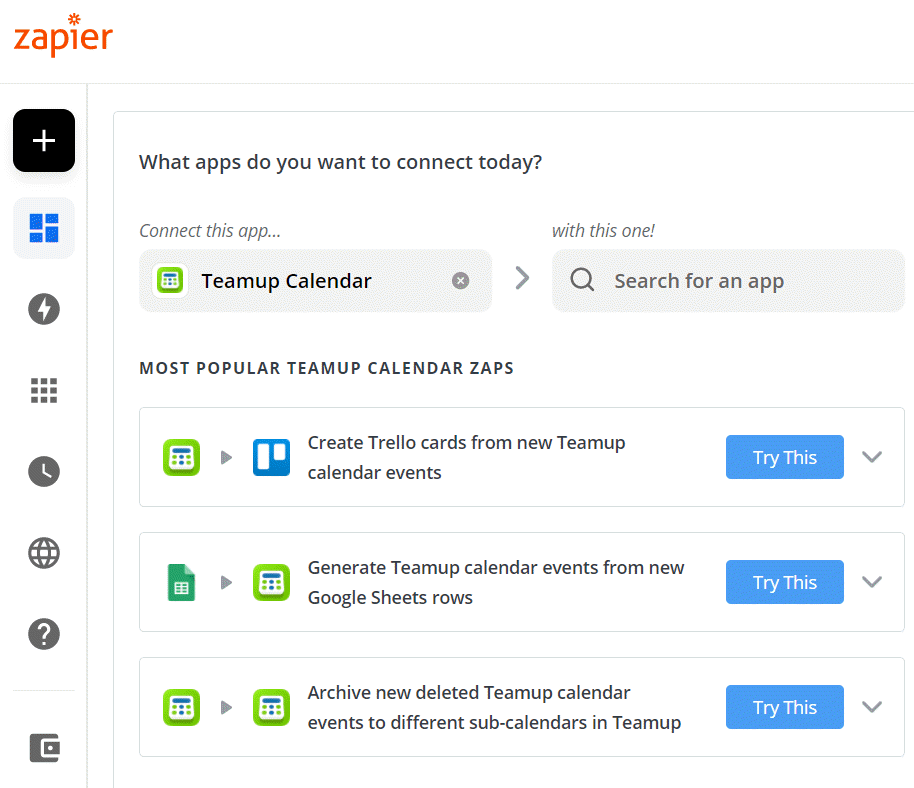 Triggers and actions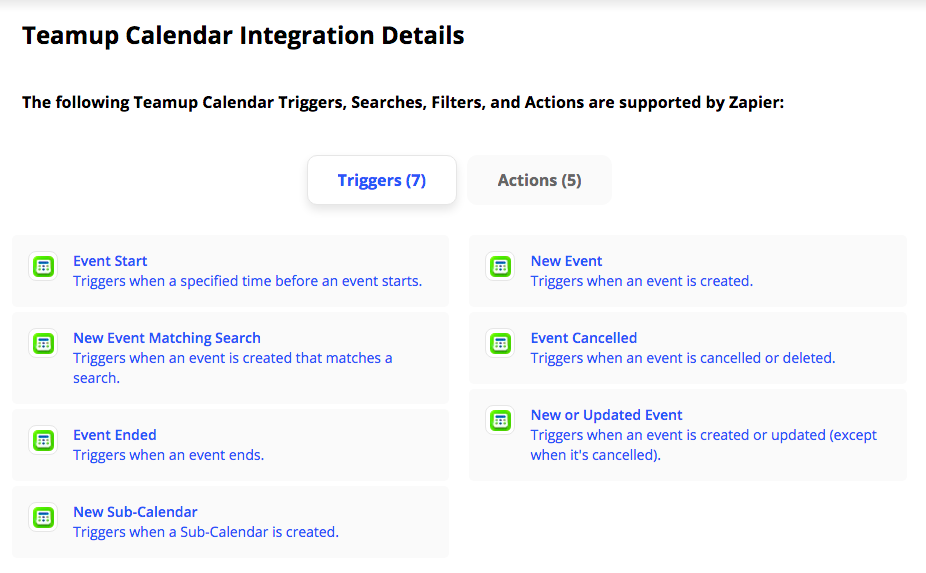 With the Zapier integration, you can use these triggers for Teamup Calendar:
Event Start: triggers at a specified time before an event starts.
New Event Matching Search: triggers when a newly created event matches a defined search.
Event Ended: triggers when an event ends.
New Sub-Calendar: triggers when a sub-calendar is created.
New Event: triggers when an event is created.
Event Cancelled: triggers when an event is cancelled or deleted.
New or Updated Event: triggers when an event is created or updated.
There are five actions to use with Teamup Calendar and Zapier:
Create event
Update event
Update sub-calendar
Delete event
Create a sub-calendar
With over 2,000 apps and services available through Zapier, there is a world of possibilities.
See Teamup Calendar on Zapier→
Here are a few of our favorite zaps:
Log Teamup activity to a Google doc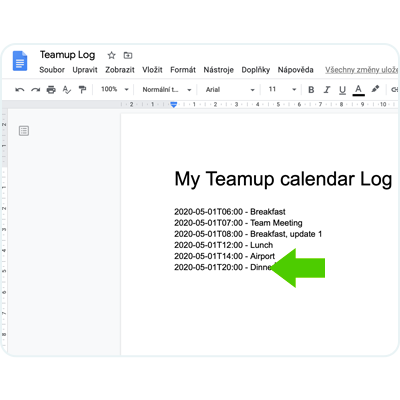 If you ever wondered about an activity of new or updated events, this automation is a perfect fit. Once set up, every time a new Teamup event is created or updated, Zapier will add a new row to a selected Google document. Keep track of every new or updated event automatically with this integration.
Send automated reminder emails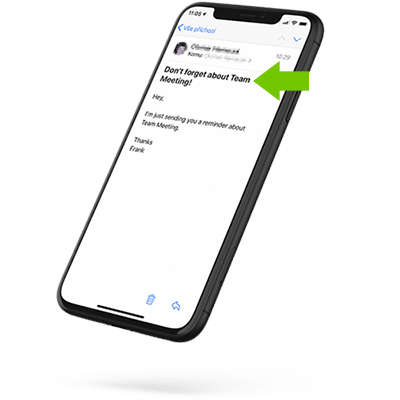 Want a simple way to remind friends, family, coworkers, clients and more about something? Teamup Zapier integration can send out reminder emails for you automatically. Use the Event Start trigger for a specified time before an event begins to send an automated meeting reminder to clients, students, or others.
Create Teamup events from Airtable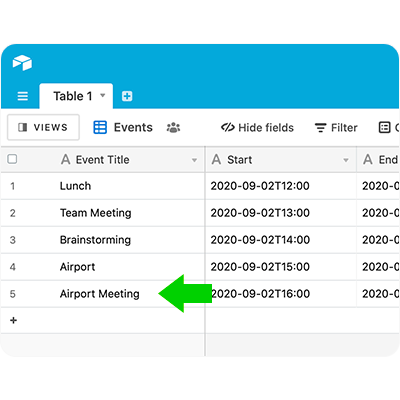 Are you an Airtable fan? This automation will be a perfect fit for you. Once set up, when new records are uploaded to the selected view in Airtable, the Teamup Zapier integration will create an event in Teamup calendar. Create new events right from your Airtable database.
Build your own Teamup zaps
Are you excited about the possibilities?
Get started with these easy steps, and check out some of our favorite Teamup zaps here.
---
"Two of my friends and I attend two conferences each year and like to track what sessions we are all in, so we can maximize on the sessions attended. We also like to know where we are so we can also put in our social calendar during the time we're together. Teamup helped us this year to do that."
---
From the Teamup blog
Share events and simplify your life
Share events between Teamup calendars
Display Teamup on a large screen
Introduce that new tool to your team
Event planning with Teamup
---
"First, I absolutely love Teamup! This is the second theatre company I've managed where we've used it and it's so awesome."
---
New to Teamup? Start here.
Make the most of Teamup, right away, with our docs and guides.
Jump in with the Quick Start, learn more from the Getting Started Guide for All Users, or check out the Calendar Admin Getting Start Guide and our FAQ.You can search our Knowledge Base to find information on specific topics. Check out Quick Tips on our blog for quick ideas and information.
Looking for inspiration? Try our Wall of Love or User Stories. Would you like to share your success story? We'd love to hear it! Share your story here.
We're on Instagram, too! Follow us for helpful tips and inspiration.
If you can't find the information you need, let us know. We're here to help you find the best solution for your needs.