We hope that August was a productive and enjoyable month for all of the Teamup family. This month we're happy to share a major update to our mobile apps and a new tool for easily embedding Teamup calendars. As we venture into the last quarter of the year, we hope these resources will be helpful for you:
---
Mobile apps: synced, global calendar dashboard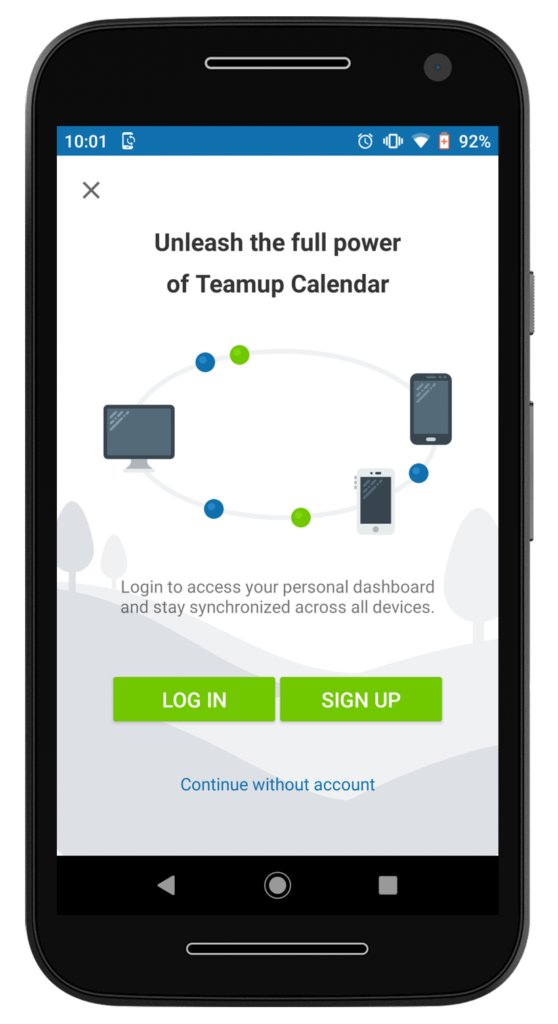 Teamup's mobile apps for iOS and Android just got a major update: we added a synced calendar dashboard.
This global calendar dashboard allows you to access your calendar (or calendars) and stay synchronized across all devices, browsers, and app platforms. The synced calendar dashboard is enabled by a free Teamup user account.
You can log in to your existing Teamup user account, or sign up for one from the mobile app. Then you'll be ready to enjoy an automatically synced calendar dashboard, making it easy to stay updated across all your devices and platforms.
Use the links below to learn all the details for iOS or Android:
---
New: Teamup embed wizard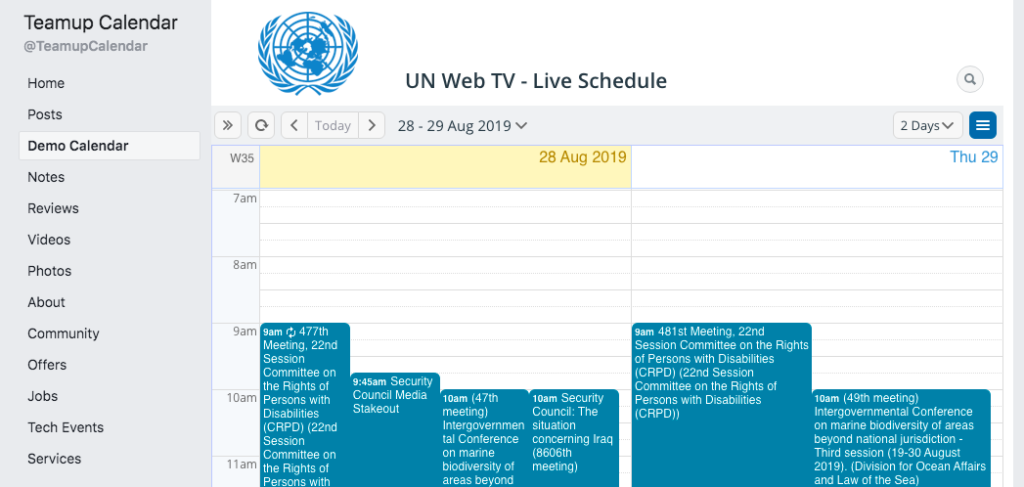 Want to embed your calendar on your blog or website? It's a great way to share events and coordinate schedules. With the new Teamup embedding tool, it's easier than ever.
The new embed wizard is a WYSIWYG (What You See Is What You Get) style editor, with a toolbar for making visual adjustments. You can set up the embedded calendar just as you want it, then copy the code and insert it anywhere. The embed wizard will generate both iFrame code and a URL for the calendar you wish to embed.
Get all the details here:
---
User story: color-coordinated calendars for a busy schedule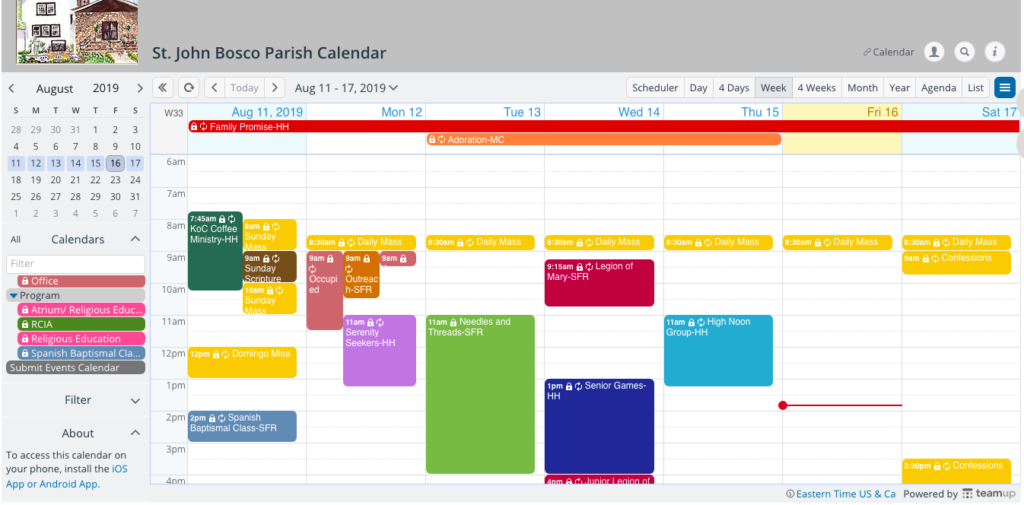 When you're managing a complex schedule, visual cues and ease-of-use become very important. Something as simple as color-coding can make a big difference. This busy parish with many event types and groups relies on color distinction, folder organization, and an embedded calendar to keep everyone informed on events and schedules.
---
Blog post: Schedule work with a Teamup calendar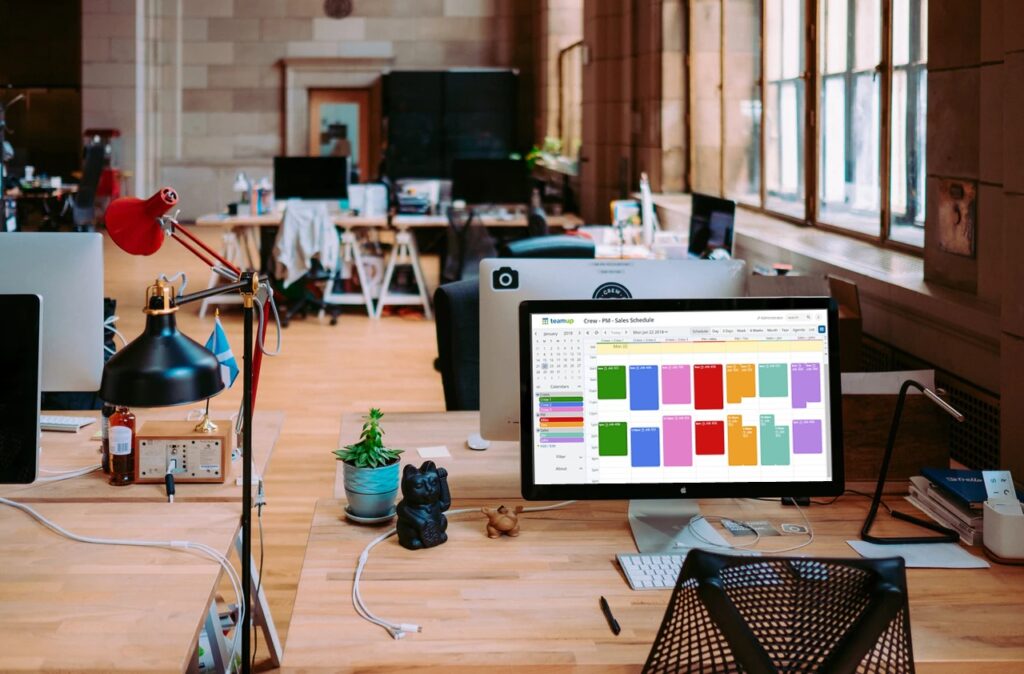 Scheduling work means determining who is going to do what and when they're going to do it. There are two primary ways to schedule work: 
Scheduling hours of work (for variable or shift schedules).
Scheduling tasks/jobs that need to be done.
Scheduling work doesn't have to be a time-consuming hassle. A Teamup calendar can bring you more ability to delegate–without security risk–and reduce the frustration and inefficiency of scheduling with old, out-dated methods.
Learn about using sub-calendars, customized calendar links, access permissions, event signups, and more to create a centralized scheduling tool that works for you:
---
FAQ: How do I add and remove calendars from my dashboard?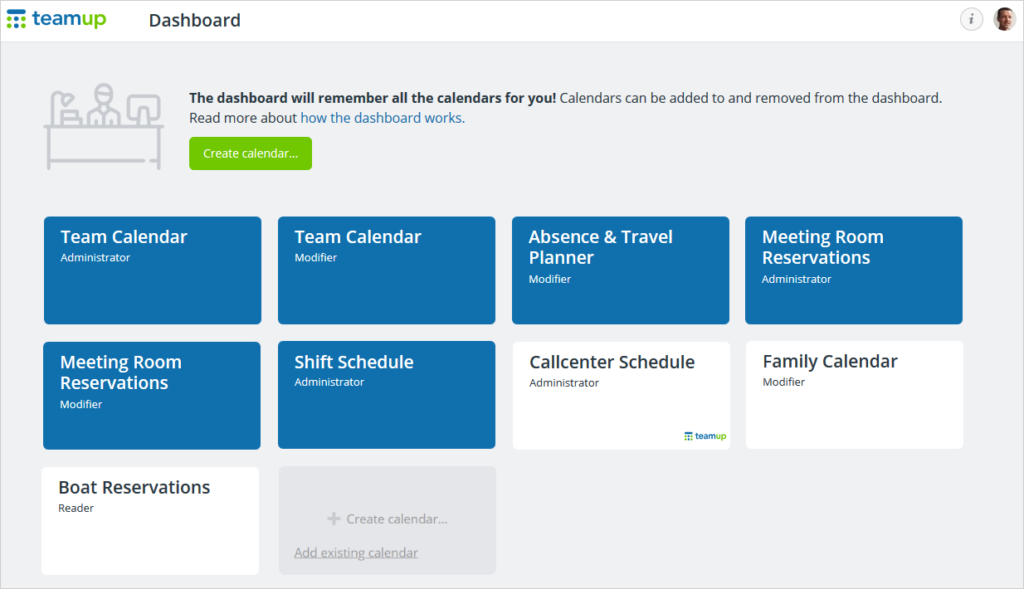 With a Teamup user account, you can use the synced, global calendar dashboard on your web browser and your mobile devices.
However, you may find that you wish to remove some calendars from your dashboard when they are no longer relevant. Or you may need to add a new calendar link to your synced calendar dashboard.
It's easy to add or remove calendars from your web browser or your mobile device.
Add a calendar from mobile: To add a calendar to your dashboard, swipe to open the left sidebar. Then tap the calendar icon to open your calendar dashboard. Tap the + button in the top right. Choose Connect an existing calendar. Then type or paste in the calendar link. Your calendar will show up on your dashboard. Tap to open the calendar.
Add a calendar from browser: You have two options on a browser. You can either use the link on your dashboard, or use the green + button that appears on a calendar when you are logged into your user account.
Remove a calendar from dashboard: You can easily remove any outdated or unused calendar from your dashboard, either from your mobile device or from your browser. With the synced dashboard, making a change on one device or platform will automatically update your dashboard on other platforms or devices, as well.
---
New to Teamup? Start here.
Make the most of Teamup, right away, with our docs and guides.
Jump in with the Quick Start, learn more from the Getting Started Guide for All Users, or check out the Calendar Admin Getting Start Guide and our FAQ.
You can search our Knowledge Base to find information on specific topics. Check out Quick Tips on our blog for quick ideas and information.
Looking for inspiration? Try our Wall of Love or User Stories. Do you have your own story or tip to share? We'd love to hear it!  Share your story here.
We're on Instagram, too! Follow us for helpful tips and inspiration.
If you can't find the information you need, let us know. We're here to help you find the best solution for your needs.