Managing shared resources can be quite a challenge. Learn how to set up a Teamup calendar for a self-managed, secure booking system.
---
Table of Contents
---
Many schools and educational centers have resources that are shared among the students. For example, lab space and equipment, specialized tools, computers, recording equipment, and musical instruments may be available. To use them, students need to book a time or otherwise reserve the space or resource.
Teamup works well as a simple booking or appointment calendar. This can be a big help in managing shared resources. Let's take a look at how to set up a calendar for this type of scenario.
We'll use the example of a school which needs to manage 10 mobile computer carts. The carts can be moved from one room to another, and are shared by a staff of 30. The calendar administrator needs to enable each staff member to reserve the carts, and to indicate where the carts will be used during the reserved times.
Create the needed sub-calendars
The calendar administrator will start by creating a sub-calendar for each mobile computer cart. So, there will be 10 sub-calendars: one for each mobile computer cart. The carts can be numbered and color-coded to match the sub-calendars: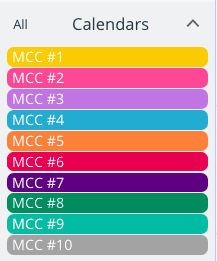 See more about using sub-calendars and folders.
Create customized calendar links
Next, the administrator will create a customized calendar link for each staff member. We recommend using individual links, rather than creating a shared link for a group, because it creates more security.
For example, if a staff member leaves the school, the administrator can simply delete that individual's calendar link and they will no longer be able to access the calendar. No one else will be affected. However, if a group is sharing a calendar link, then if one individual leaves, the shared group calendar link will be compromised. It's still possible to deal with this scenario, by adding a password to the calendar link or by deleting the old calendar link and creating a new one. However, this method causes more disruption for more people. See more details here.
Each calendar link should be given a permission that will allow the individual user to create their own reservation, but not modify or delete reservations made by other staff members. The modify-from-same-link or add-only access permission would work.
Naming each link for the individual who will use it makes it easy to deactivate or delete compromised links, when needed. If it makes more sense to create one calendar link for each group, add password protection. Then, if an individual leaves the organization, the administrator can change the password and the group can continue to use the same link.
See more about creating calendar links.
Use custom fields for additional information
Since the computer carts are mobile, the staff members can use them in different rooms and areas of the school. The administrator wishes to make sure that it's always easy to find the mobile computer carts; so staff members are required to designate the location for each reservation they make. To make this easier, the administrator uses a custom event field:
The custom event field is created as a single-choice field.
The options are set as all school rooms in which the mobile carts can be used.
The custom event field is required, so staff members cannot make a reservation without designating the location.
The contents of the custom event field are set to show in the event title, so it's easy to see where they are being used.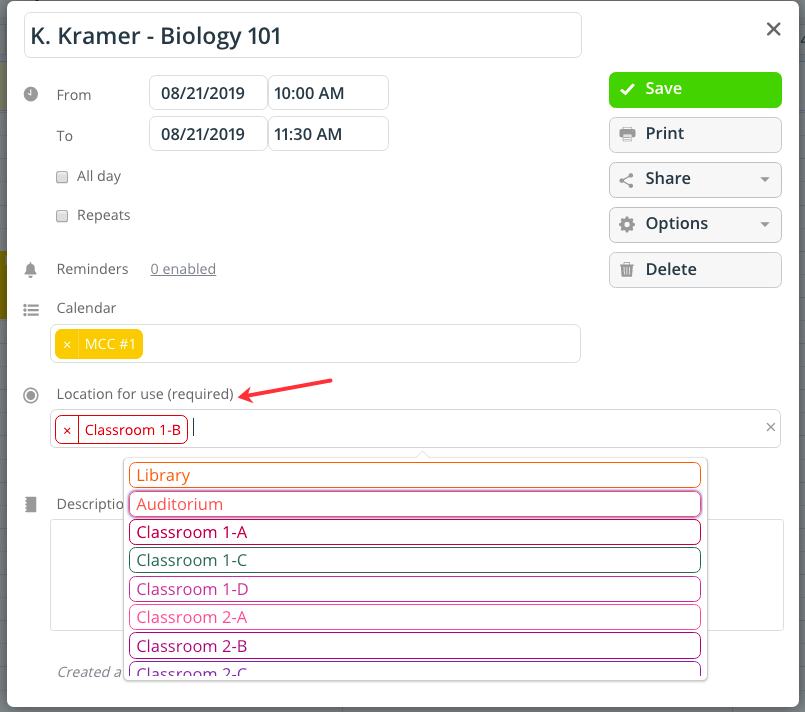 See more about using custom event fields.
Allow self-booking for shared resources
With this calendar setup, each staff member can manage their own booking. Here's how:
The administrator will make sure that each sub-calendar is set to disallow overlapping events. This will prevent double-booking a mobile computer cart. See more here.
Each staff member can make their own reservations to use a mobile computer cart:

Open the calendar with their own unique calendar link.
Create an event for the time in which the computer cart is needed.
Assign the event to the sub-calendar for the computer cart to be used.
That's it!
If a staff member needs to reserve more than one mobile computer cart at a time, that's easy. By assigning the reservation event to multiple sub-calendars, they can reserve multiple carts at one time.

See more about delegating with your calendar.
Make it easier and more efficient
Here are a few other ideas that can help make resource booking even easier:
If desired, the administrator can implement a simple approval system, so that each reservation is reviewed before being approved. See here for more details.
Instructions for basic calendar use and how to make a reservation can be added to the calendar's about box. Here's how.
Staff members can use event comments as needed to discuss details, schedule conflicts, location changes, or other logistics. See more here.
The administrator and staff members can download and use the Teamup mobile apps (for iOS or Android) to check resource schedules and make reservations.
Any unavailable times can be blocked by the administrator. For example, if a computer cart is being repaired, the admin can create an event for the days it is unavailable.
How could your school or organization benefit from a simple way to reserve and share resources? Try out a demo calendar here to get a feel for all the features and possibilities.