Teamup supports various types of notifications. Email notifications can keep you or your team members updated on changes and additions to your calendar. When someone no longer needs to receive notifications, they can unsubscribe or the calendar administrator can delete their notification subscription.
Why to unsubscribe
As an individual calendar user, you'll want to unsubscribe from email notifications if you are no longer involved in the organization, company, or group that owns the calendar. Or you may want to switch to a different kind of notification and no longer receive the email notifications.
For organizations and calendar administrators, it's important to ensure that calendar data stays secure; if an employee leaves the company, or if a client relationship ends, you'll want to make sure that these individuals are unsubscribed to any calendar notifications. Every notification email contains links to the calendar and calendar events; to prevent unauthorized access to the calendar, therefore, unsubscribe or deactivate all notification subscriptions to individuals who should no longer have calendar access.
How to unsubscribe
There are two ways to unsubscribe to email notifications.
1. From one of the emails
If you are subscribed to email notifications, click the link "Manage your notifications" in the bottom of a notification email you have received. 
You will see the Unsubscribe option as shown below: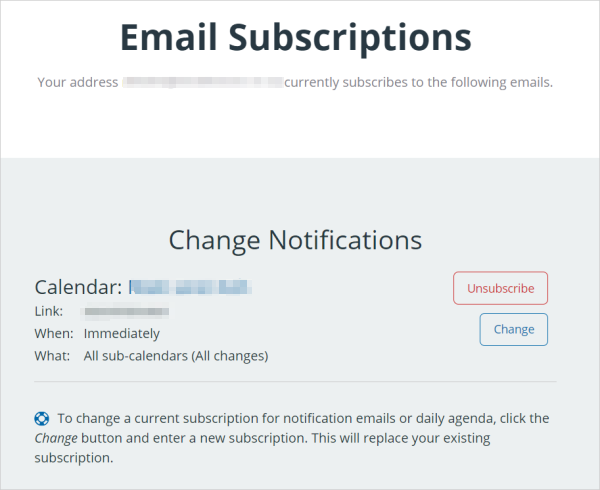 2. From the calendar settings
If you are the calendar administrator and need to unsubscribe a user from email notifications, open the calendar with the administrator link. Go to Settings > Notifications, then click the Edit icon.
On the next screen, find and delete the notification: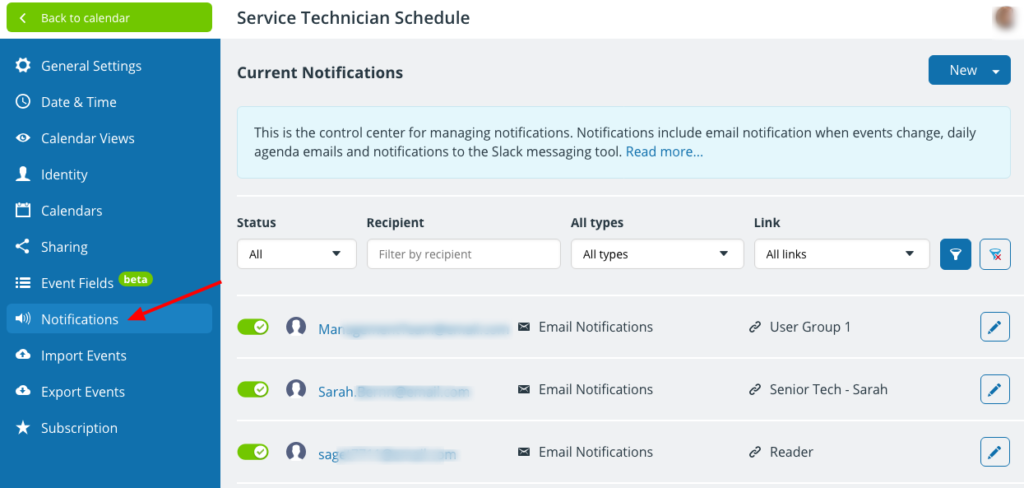 Maintain security with email notifications
The notification email contains direct links to the sub-calendars and calendar events included in the notification; this enables you to click through to the calendar from a notification email, which is often convenient and helpful.
To maintain security, be careful to set an appropriate link for all notification subscriptions. Never assign an administrator link for notifications to non-admin users. Instead, use a calendar link which has appropriate permissions for that user. See more details here.
Additionally, do not forward notification emails. Instead, share individual events via the Sharing options on the browser or mobile. This helps maintain calendar security and makes it easier to manage notification subscriptions as needed.
Learn more: