Update, March 2019: We've added lots of features and made significant improvements and updates since this post. Check our monthly updates or get some ideas for using event comments on your Teamup Calendar.
---
Many users have shared with us how they use Teamup, what works well and what they wish to have and why. The ability to add comments to events was one of the frequently requested features. We're happy to share that we have released this feature on the Web version for beta testing and it is available to all free and paid users.
Please note the new feature is not yet supported on the iOS and Android apps at this time. It will be. Thanks for your patience.
How to use the Comments feature
The new comments feature can be enabled by the event creator as an option in the event editor: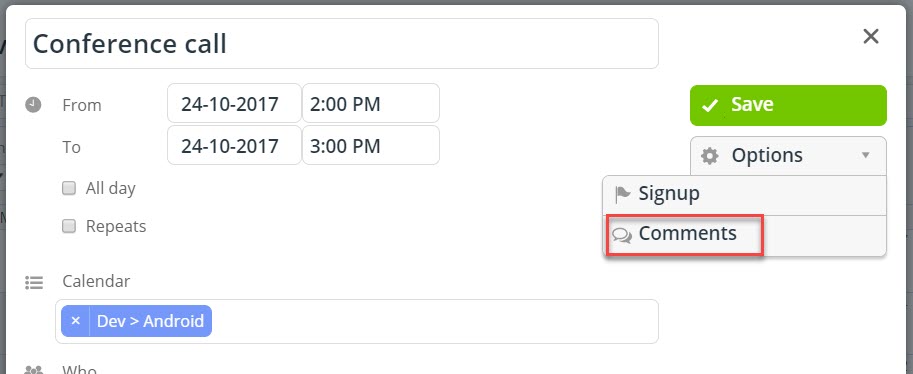 Read more about how to use the new comments feature.
Use case examples
Possible uses of this new feature are diverse. Some examples:
Before or after a conference call, participants may post comments for discussion, even if some of them only have read-only access to the respective sub-calendar, or even no access to the calendar but the event page only.
Field crews with read-only access to jobs scheduled for them may add notes to the jobs directly therefore simplify conventional reporting processes.
For organizations that work with many freelancers, the comments feature may bring a great addition to their work flow.
We use Teamup to schedule crew events. So the notes section is filled with information about the event. We love the comment section because it's a different area that allows us to note communications and correspondences with our freelancers. Even though we share this Calendar, we know that the comments are just for those who have the correct permissions and that's important to us.   – Sean George, AVS
Share your experience
Once you have the chance to experience it first hand, we'd love to hear from you how you use it and what differences it makes for your organization. Feel free to drop us an email or use this form to share your story.