What a huge milestone this is!  Thanks to our customers around the globe who keep us inspired and challenged.  I'm so proud of our incredibly capable and motivated team who has delivered another much needed solution!
We just shared this exciting news with all of those who subscribe to our newsletter.  Here's one part of it.  You can read the full content here.
❖          ❖          ❖          ❖          ❖          ❖          ❖          ❖          ❖
You asked, we've delivered. We're thrilled to announce the launch of a newTeamup Calendar feature – the ability to assign one event to multiple calendars.
Have you been in a situation where:
a group of people need to go to the same meeting or work on the same task?
a tennis class needs to be assigned to a coach and a court?
a conference session belongs to both a content track and a room…?
… the list goes on and on – there are hundreds of reasons you may need to assign one event to different calenders. Well, we've made it easier for you.
Click here to see how to assign one event to multiple calendars.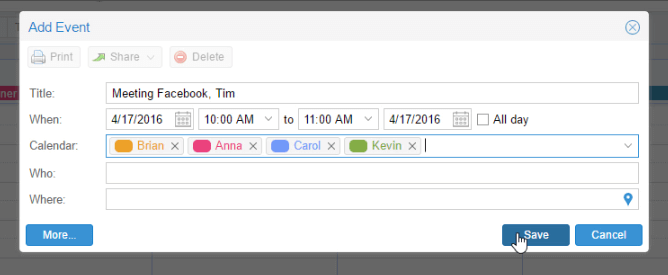 So what does this mean for you? Less time spent on data entry as you don't have to enter the same event multiple times, and less risk for outdated or inconsistent information in your calendar.