Life is multifaceted, for both individuals and groups.   Getting organized is additionally challenging when you are juggling many "things" and need to avoid clashes.  For example, a school administrator needs to manage teachers, subjects and classrooms to ensure that teachers and classrooms are not double booked.  An agency managing musicians and venues needs to be able to keep each musician updated when and where they will be playing.  And each venue needs to know who will be playing and when.  Scheduling which necessitates working with multiple calendars can be difficult and time consuming.  At Teamup we recognize this and we've built a solution which links events to multiple calendars to simplify complex scheduling tasks.
Our new "one-to-many" ability lets you assign a single event to multiple calendars, which might include the calendar of a person, resource, object or venue, etc.  The feature is available for free to all Teamup users and it can be enabled or disabled in the settings.
How to assign one event to multiple calendars
When this feature is enabled, you can assign a single event to multple calendars inside the event editor.  Consider this example: Multiple companies working in a shared office building can request a booking for either of the two shared conference rooms via the room calendar which is assigned with the add-only-no-details permission.  The building administrator controls the booking system so a booking is only valid when the administrator confirms it.  When the administrator receives a booking request, they can go to the room calendar to review the booking and then, to accept it, they will add the "Confirmed" calendar to the event.  This indicates that the booking request has been accepted and the event now appears automatically in the Confirmed calendar.  they can do this all without needing to create any additional entry so that chance of error is reduced and duplication of effort is avoided.  The building administrators can also add notes to the event (in the More area) if there is something they need to share with the person who booked the room.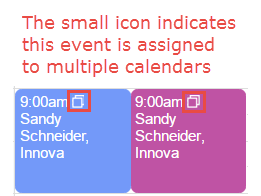 Events that are assigned to multiple calendars are marked with a special icon.  If you click on the event you will see the calendars it is assigned to listed in the Calendar area.
To see this feature at work, check out this demo calendar.  It has read-only permission assigned to it so feel free to click around it.  To view the confirmation page for confirmed booking, right-click on a blue entry (this indicates it is confirmed – the Confirmed calendar is blue) and select Share > As page.
How to enable this feature
You can enable and disable support for multiple calendars per event by going to Settings -> General Settings and check or uncheck the Enabled checkbox.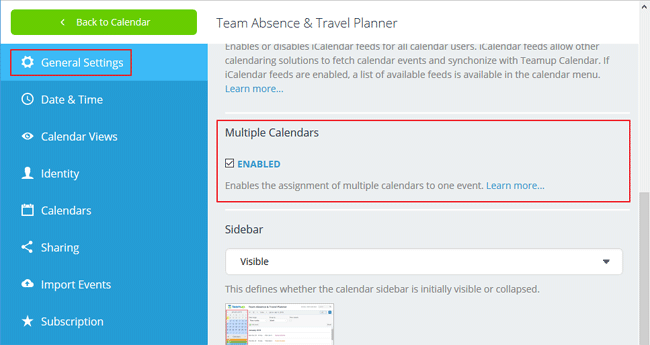 Use Cases
The ability to assign an event to multiple calendars has many different use cases. Here are a few examples:
Team Calendar: Assign multiple team members to one event
Reservation Calendar: Reserve multiple pieces of equipment, rooms or vehicles for a single event.  You can manage this using tentative and confirmed reservations.
Project Calendar: Assign multiple resources to a project task. Resources can be people, rooms, equipment, etc..
Work Scheduler: Assign a job to the crew and the job type or client
Content Calendar: Assign a post to a content type, a writer, a status
Corporate program calendar:  Assign an event to multiple relevant departments
Do you have a great use case to share?  We would love to hear from you.  Feel free to tweet to us or email info@teamup.com.