I like to think of myself as creative, and I encourage my team at TeamUp to always be thinking of ways to make our tools more useful, more helpful, more genuinely necessary.
But…sometimes our customers are way ahead of us. Case in point: A number of building engineering services/construction companies are using TeamUp's file uploading and event as a Web page features in ways we hadn't even imagined.
Early on in my (in what I now see as limited) thinking, I saw our file uploading ability as a great way of sharing support documents—like agendas, creative briefs, marketing plans, etc.—among meeting participants. Likewise, I thought our event page feature, which turns any single event on a calendar into an independent web page that can act as a virtual flier, was a way for teams to share more detailed descriptions of upcoming events without making them go to a calendar.
Put them together, file uploads and the event pages, and—tah-dah!—you have what I call a "meeting in a box," everything participants need to have more productive, more effective meetings.
That's still true. But these construction contractors have come up with something even smarter:  Work orders in a box—everything their crews need to know to do their jobs effectively on their job sites. Take a look at this screen grab from a job board on a Teamup Calendar (anonymized to protect customer privacy):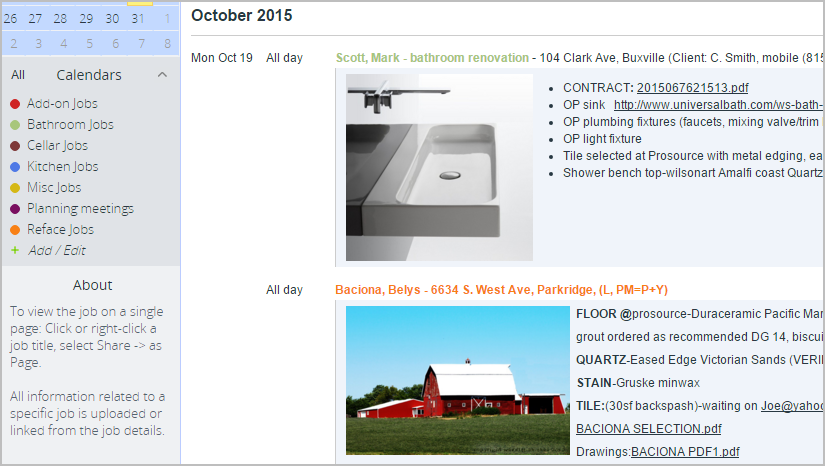 Once a job is scheduled on the calendar, the job can be viewed as an independent Web page with a unique URL. So what's the big deal? When you have access to the calendar, you can create an independent job page by clicking or right-clicking the job title, then select Share -> as page. Now you don't have to share the entire calendar; you can send one neat, concise job page URL to any crew going to the client site.
Here's what they get from the event page, the work-order-in-a-box: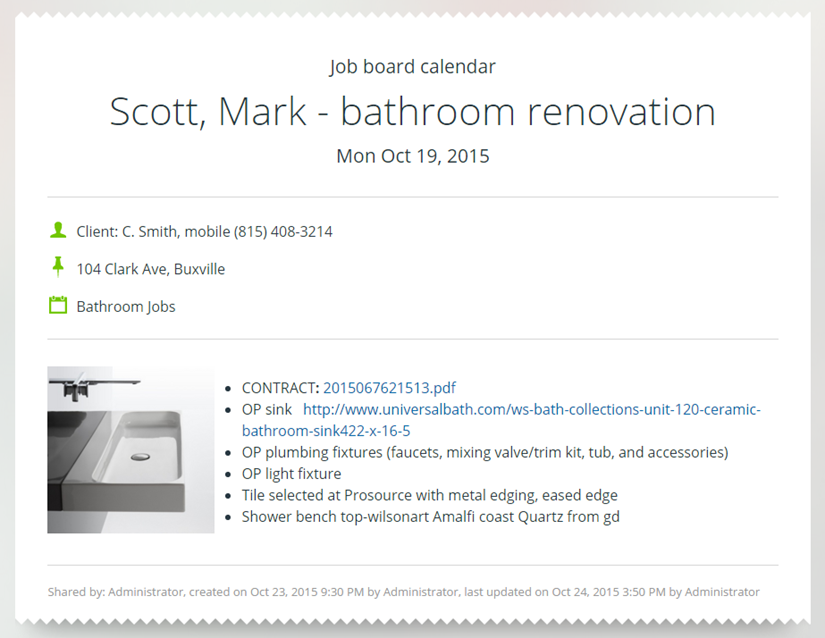 Dates, times, locations—all the usual things you associate with schedulers are here. But that's just table stakes.
Detailed assignments—inside the entries, you have important supporting information: required fixtures/appliances/materials, job specifications, materials specifications, etc. In the related event link, all this can be expanded in depth, and still be appropriate for mobile, which is how most of these end users will access this information.
Supporting documentation—this is where the upload files feature is key. With a few clicks, the scheduler or the contractors can add blueprints, drawings, photos, spec sheets, instruction manuals, warranties, even the contracts themselves. Got important docs on Dropbox? No problem. We have a Dropbox file picker on the editor toolbar (free to all users). The point is, everything's here. Nothing needs to be collated, mailed, collected (and perhaps most importantly, remembered). In other words, it guarantees that all the right docs go with the right workers to the right job sites, either as a single web page or a calendar.
Easy updates—things happen, things change. But when they do, one update on Teamup brings everyone up to date instantly.
Simplicity—Having all the information related to a job on one page is practical. Your crew does not even have to open the calendar. Your one "job-in-a-box" has all the latest information they need, including images and file links.
Our construction customers showed us brilliant ways of using TeamUp that I hadn't even dreamed of.
Do you have a great story to tell? Have you used TeamUp in a really clever way? If so, don't you deserve a round of applause? Tell us your story. We'd love to feature your brilliance in a future blog post!